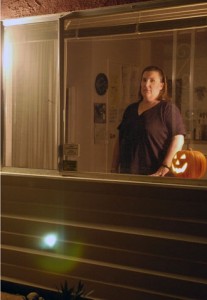 Apple Valley resident, Debbie Hoffman, stands near the front window of her home where she claims she once saw the image of a man stnading there when she returned from the store. The Hoffman family believes their house haunted by the original owner.
APPLE VALLEY • When an Apple Valley couple set up a camera to catch kids toilet papering their home, they were surprised to have captured a blue entity that confirmed their notion that something unearthly and unexplainable was at play.

Debbie Hoffman is very spiritual, and the video evidence of the blue mass has made believers out of friends and family, including her husband, Jim Hoffman.

Jim Hoffman has admitted to smelling strong scents of cigar smoke despite the fact that no one in their family smokes. Debbie Hoffman feels cold drafts literally sweep across her legs and is awakened nightly by someone shuffling papers. When she looks up, there is no one there.

"I came home one day, pulled in my driveway and a short old man in a sweatshirt was standing in my living room window," Debbie said. "I literally looked right at him and he looked at me."

When she parked and ran in the house, there was no one to be found.

It's not the only time she and her two daughters have felt the man's presence, and Debbie believes it could be that of a former owner of the house. On the work bench in the garage at their 35-year-old house on Wichita Road is etched the initials G.W. Spohn.

"I feel his presence all the time," Debbie Hoffman said.

A former Victorville resident, J.R. Rocha said the presence of a man in his home on Yucca Avenue was witnessed at one time or another by his whole family.

Rocha said he believes the image of the man was there to warn the family, though Rocha admits that he is not superstitious.

The illuminated subject was often seen in the hallway and one day, exactly where he was seen standing, Rocha's wall heater broke and spewed a one-foot flame into the hallway.

The stories told by Rocha and the Hoffmans merely scratch the surface of reports of places that are said to be haunted throughout the Victor Valley.

From the Oro Grande Cemetery — the oldest in the Victor Valley, and which was investigated by the High Desert Paranormal Society — to the century-old Paradise Ranch in the foothills of Apple Valley, which boasts a historical bevy of unexplained tales, the Victor Valley is no stranger to paranormal activity.
Full source: Dailpress VV
4 comments