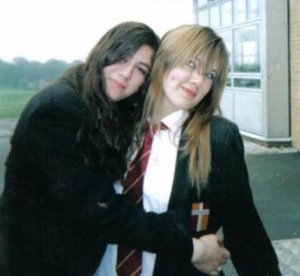 Carissa (right) had a history of sleepwalking and feared that her flat was haunted by the ghost of a previous tenant
A teenager may have hanged herself while sleepwalking after becoming 'spooked' by stories of a recent suicide in her flat, an inquest heard.

Carissa Glenn, 18, told her family she was having repeated nightmares about a woman who had apparently hanged herself in the rented apartment.

Miss Glen, who had a history of sleepwalking episodes in which she acted out her dreams, was found dead after hanging herself in her bathroom in the middle of the night.

A coroner returned an open verdict because it was unclear whether she had deliberately hanged herself or did so accidentally in her sleep.

Yesterday, her mother Lusia Glenn, 59, said: 'We think she was in a semi-conscious, dream-like state when it happened.

'Carissa had heard rumours of a woman who hanged herself in the flat and it really got to her. She started saying she could feel her presence or sense her.'

The teacher added: 'She would never do anything like this on purpose. She must have sleepwalked and acted out her dream – she used to all the time.

'She began having dreams about this woman. She told me she was so spooked by it that she hated going back to her flat at night.'

Miss Glenn moved from her home in Leeds to St Ives, Cornwall, after finishing her A-levels to be with friends she had met on family holidays.

She moved into the flat but soon after was told a previous female tenant had hanged herself there – a claim police later found to be untrue.

The week before she died in April, she rang her family three times complaining of a 'presence' in her flat, where she is thought to have lived alone.

Her family had pleaded with her to return home, and said they would pay any outstanding rent on the property.

Sleepwalking facts
Her sister Lara said: 'She was always spooked by the supernatural.

'She believed there was a presence in the flat and would mention it two or three times a week. She was always talking about her dreams, they were vivid. She must have been asleep or half-conscious when she died.'

An inquest in Truro heard she was a 'happy young woman' who was popular with staff at the Sloop Inn where she worked as a barmaid.

The day before she died she worked a shift, had several drinks with friends and left in the early hours of the morning. When she failed to turn up at the pub the next day, workmates broke into her flat and found her body.

A post-mortem examination showed the talented musician, who wanted to become a police officer, had twice the drink-drive limit of alcohol in her blood.

Deputy assistant coroner Dr Peter Blackwell-Smythe said: 'There was concern about a local rumour that someone had hanged themselves in the flat where she was living. And then there was the matter of her vivid nightmares, which were a disturbance
for her.

'It appears she was a happy young woman who was vivacious. I appreciate concerns about her sleepwalking and her nightmares.

'It would be reasonable to leave the verdict open, although I believe the evidence strongly suggests she did take her own life.'

The court also heard that she had been upset by the death of a friend and learning that her ex-boyfriend was to marry.

A family statement read: 'She was a strikingly beautiful girl, intelligent and vivacious with everything to live for.

'Many who love her and feel very close to her are still shocked and mystified by her sudden death. None who knew her will ever forget her.'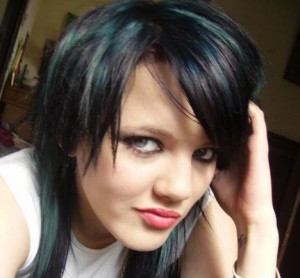 Carissa Glenn: Regularly phoned her family believing her flat to have a 'presence'
Full source:DailyMail