What's going on here? last month there was an unbelievable image that was captured by a team of paranormal enthusiasts that seems difficult to dismiss. Remember our post ?.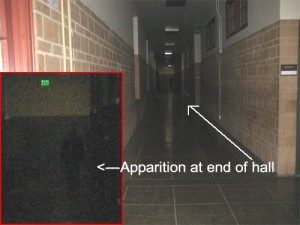 Apparition caught on camera we reported on last month
The picture that was captured, although easy to replicate, was very fascinating. We would have to take the word of the investigators who took the picture that there was no one in the vicinity when the image was taken.
Today, the Ada evening news from Oklahoma received an interesting photo from a family that claim that their house has been haunted for quite sometime now. While the family was taking photographs of their young son one Easter afternoon, they accidentally captured what the claim was the spirit that haunts their home.
The home owners claim that the prior tenants also complained about the spirit. They claim that it's neither bad or evil. They do not feel threatened by the ghost. They experience unexplained noises and doors slamming. Something the previous tenants warned them about.
The image below is the photograph of the supposed entity. You can clearly see the couple's son in the forefront of the image while in the background, one can make out a silhouette of a person. The couple, who wish to remain anonymous, said that there was no other person in the home or in that room besides them and their son. They said that there is nothing in the background that would cause that silhouette, nor do the other images taken in succession show this silhouette.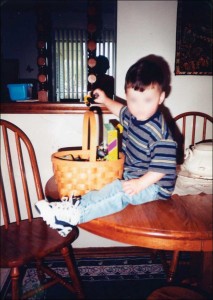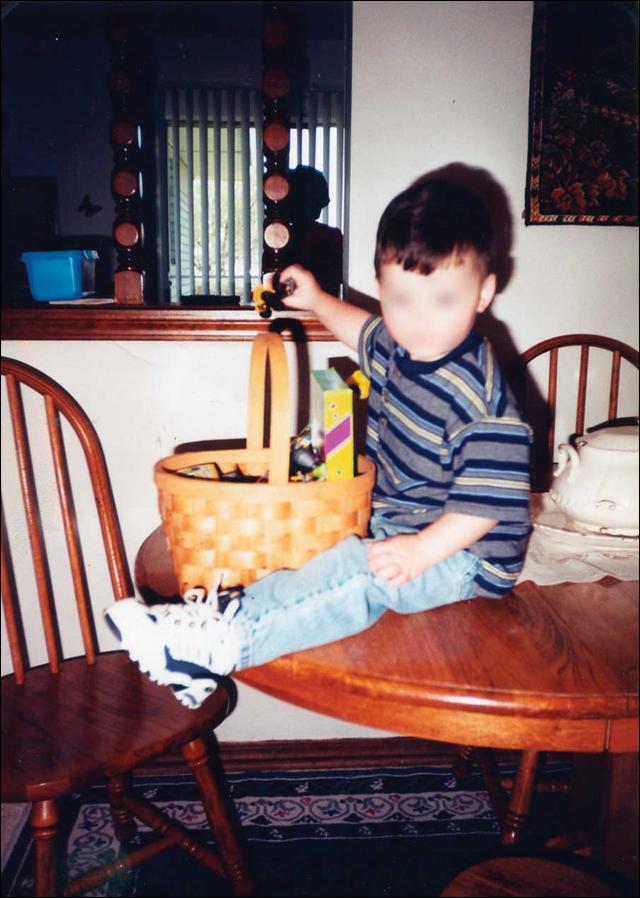 The shadow just above the boy's right hand is unexplained. The photo was taken on an Easter morning. The family requested their son's identity remain anonymous.
Here is the article from the AdaEveningnews website:
Ada — Mr. and Mrs. G. of Ada didn't think anything was out of the ordinary on that Easter morning eight years ago as their young son inspected his basket full of candy.

It wasn't until after the family had the photos processed that they noticed an uninvited guest had shown up in one of the pictures.

Strange things sometimes happened in the house on West 22nd St. Mr. and Mrs. G. rented.

Noises.

A feeling of being watched.

Tenants who stayed in the house before and after Mr. and Mrs. G. confirmed there was something odd about the residence. Nothing sinister or scary; more like little things; doors slamming, the sound of footsteps walking through empty rooms.

"You know how when you get pictures, you just kind of go through them and put them away," said Mrs. G.

While browsing through a series of three photos featuring their son on a table and playing with his Easter loot, the couple noticed something strange about the second of three pictures taken within a minute of each other; a silhouette in the background.

Not a big deal, right?

Just a relative who walked past the sliding glass and managed to get herself in a picture.

Only there was no other relative in the house, it was just the little boy and his parents.

Mr. and Mrs. G. said they were caught up trying to get the boy's attention and make him look at the camera. They didn't notice the shadowy figure in the background until after the photos came back.

"We saw it and thought, 'What is it?' So we took it back to Wal-Mart where we had it developed," said Mrs. G. "The lady who developed it wouldn't even touch the picture."

Mr. and Mrs. G. accepted the photo as just another weird occurrence they'd experienced while living in the house. It wasn't until years later when comparing notes with former tenants that Mrs. G. realized many other tenants who'd previously lived in the house had strange things happen to them as well.

"My daughter even rented that house later after we did," Mrs. G. said. "We all know there's something weird going on. But it's not bad. We don't have any problem going into that house or anything."

Mrs. G. said she and her husband had the picture enlarged in an effort to see if the woman's silhouette could be identified as anything else, but no such luck.

"We're hoping it's something explainable," said Mrs. G. "We can't say if it's just some fluke of a shadow or something. We're not claiming it's anything, we just think it's something we can't explain."

Do you think this is a picture of the ghost that haunts the "G" family household?
Or can it be a silhouette caused by some object on the background?
We leave it up to you to decide. Register to leave your comment
1 comment