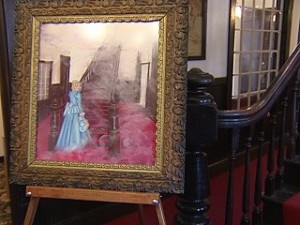 Painting of the infamous 'lady in blue'
The 'lady in blue' is said to haunt Morgan's Alley in Idaho. Sounding more like an marketing ploy, The city of Lewiston runs ghost tours in this Main street.
I'm always skeptical of any haunts that are related to a 'ghost tour' or some kind. People impatiently and obtrusively crowding into places and snapping their camera's in the hopes of capturing whatever anomaly is being sold to them. The Queen Mary comes to mind.
LEWISTON – It was Friday the 13th, unusual in that it was the second time in two months for the day one in five Americans think might actually mean something. Maybe black cats or broken mirrors get their attention. Or maybe they turn that attention to ghosts.

To many business owners on Lewiston's Main Street, ghosts, spirits, or whatever you want to call them, are very real.

Morgan's Alley is rumored to be haunted by a spirit known as the Lady in Blue.

"Everybody talks about it and has had little experiences," said Harvesting the Arts employee Carmelita Nedrow.

Nedrow said she has heard and felt the Lady in Blue and that lead her to paint a portrait. Many of the encounters happen in a stairway to the 3rd floor. Nedrow took photographs to prepare for her painting, and when she looked at the pictures, she discovered something strange.

"I saw these little orbs on the steps and coming down the steps, going around the corner," said Nedrow.

Nedrow's experiences are not unique. Vikky Ross is one of the owners of the building and when she bought it, she heard the stories.

"The Lady in Blue has been seen by other people for the last 30 years," said Ross.

Ross said doors open and close unexpectedly, lights flicker and many tenants said they feel like they are being watched.

"I heard piano music start to play and I followed it through, because it was really getting louder and louder as I was coming up stairs," said Ross. "I went clear to the 3rd floor and there was music coming but there was no explanation for it. It was just there, so I decided to leave."

As spooky as that sounds, no one thinks the Lady in Blue has ill intent. Lewiston City Council Member Garry Bush owns Ghost Tours and says the Lady is a friendly character.

"I think she's curious and I think like Vikky said, she's not mean spirited," said Bush. "When something happens in this building she is the caretaker."

In the 30s and 40s Morgan's Alley was a mix of rowdy bars and brothels. Once thought to be a prostitute, now the Lady in Blue is regarded as Mary Spalding, the wife of a missionary. Bush said she often shows herself on his ghost tours.

"I have an article that I think is dealing with this lady and as I read it to the folks, she has been seen over my shoulder, next to me, reading the article," said Bush.

But Morgan's Alley isn't the only haunt on main street.

"I think that every one of the buildings downtown has some paranormal activity," said Bush.

In the basement of one of those building people said they have seen lights flicker, in a room with no electricity.

Bush said some ghosts are interactive like the Lady in Blue while others are on a loop, always doing the same thing.

The next time you are in downtown Lewiston, keep your eyes open, because you never know who's watching.
Full source: Klew TV
2 comments