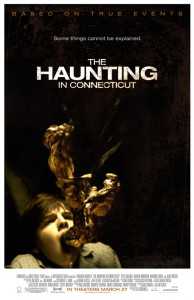 I just received an email with a post from Joe Nickell from csicop.org (Committee for Skeptical Inquiry) detailing the awful truth behind the real "Haunting in Connecticut" movie that is being released nationwide tomorrow.
Joe Nickell is a famed skeptical investigator of the paranormal and writes for the CSI website/magazine.
I used to subscribe to the Skeptical Inquiry mag, but for some reason, they stopped sending me their magazines. So I stopped paying. Or was it the other way around?
Anyways, this is a very good post that details what really happened behind the scenes of the alleged "true story". Book deals, TV spots, drugs and sexual abuse are all in the mix.
Mr. Nickell tells of how Ed and Loraine Warren were the primary perpetrators of the hoax.
" Ed made veiled threatening asides to me (not aired) and, offstage, swore like a sailor. During the taping, the Snedekers sat on a brass bed while telling their story of demonic sexual attack." – Joe Nickell
The Warrens have been behind or part of other major cases as well. From the Smurl haunting to the new TV hit "Paranormal State".
What makes this a tragic tale to all paranormal enthusiasts is the amount of people who testified against the haunting claims. Including Ray Garton, the writer of the Southington case, of which the new movie is based on.
This is what Ray Garton had to say:
"The family involved, which was going through some serious problems like alcoholism and drug addiction, could not keep their story straight, and I became very frustrated; it's hard writing a non-fiction book when all the people involved are telling you different stories" ("Ray Garton" 2009)"
Read more
It's an old story—in more ways than one. In 1986 the family of Allen and Carmen Snedeker (respectively a stone-quarry foreman and former bowling alley cocktail waitress) moved into an old residence, known as the Hallahan House, in Southington, Connecticut. The family included three sons, ages thirteen, eleven, and three (the two oldest being Carmen's by a previous marriage), and a six-year-old daughter; two nieces would later follow.

It is disputed whether the Snedekers knew when they moved in on June 30 that the house had been a funeral home. They maintained they did not; however, some neighbors insisted otherwise, and the previous owners emphatically stated that the Snedekers were informed of the house's former use prior to their moving in. In any case, the family soon discovered in the basement a box of coffin handles, a chain-and-pulley casket lift, and a blood drainage pit—unmistakable relics of the previous business, the Hallahan Funeral Home.

The creepy setting may well have had a powerful suggestive effect. Spooky phenomena began with the oldest son, Philip, whose basement bedroom was adjacent to the gruesome area. Soon he reported seeing ghosts, although his parents say they first attributed this to cobalt treatments he was receiving for Hodgkin's disease. Philip's personality changed drastically: he began wearing leather, developed an interest in demonology, and even reportedly broke into a neighbor's home, telling his mother he wanted a gun so he could kill his stepfather (Corica and Smith 1988a; Rivard 1988; Carpenter 1988).

The phenomena allegedly continued for two years. A seventeen-year-old niece claimed an unseen hand fondled her on occasion as she lay in bed, and there were many other reported occurrences, including more apparitions, noises, and physical attacks—especially alleged demonic sexual attacks on Carmen Snedeker (Carpenter 1988; Corica and Smith 1988a).

Then the Snedekers brought in notorious "demonologist" Ed Warren and his "clairvoyant" wife Lorraine. The couple made a business—some would say a racket—of spirits. They came to be called many things, ranging from "passionate and religious people" to "scaremongers" and "charlatans" (Duckett 1991). Already having helped promote the Amityville "horror" and a similar West Pittston, Pennsylvania, "nightmare" (Curran 1988), they continued their modus operandi of arriving at a "haunted" house and transforming the case into a "demonic" one, in keeping with their own medieval-style Catholic beliefs. (Like the Lutzes at Amityville and the Smurls at West Pittston, the Snedekers were self-described devout Catholics.)

Bringing with them two "psychic researchers" (the Warrens' grandson and nephew), Ed and Lorraine Warren moved into the house for nine weeks. While denying there was any book deal in progress, the researchers had in fact made just such an arrangement. Mrs. Snedeker had already told her upstairs neighbor about the deal, saying she and her husband were to receive one-third of the profits (Carpenter 1988; Corica and Smith 1988a, 1988b).

Soon both Al and Carmen Snedeker were publicly claiming to have been raped and sodomized by demons—the same claim made in a previous case involving the Warrens (Nickell 1995, 131). They would repeat these claims on national television shows—notably on Sally Jessy Raphael—to promote their book with the Warrens, In a Dark Place: The Story of a True Haunting (Warren, et al. 1992). It was written with professional horror-tale writer Ray Garton and timed—like the Sally show—for Halloween promotion, 1992.
Investigation

Although I had earlier appeared with Carmen Snedeker on The Maury Povich Show (taped March 2, 1992), my investigation intensified when Sally Jessy Raphael producers sent me an advance copy of the Warrens and Snedekers' book and invited me on the show. I later visited Southington as a guest of one of the Snedekers' neighbors.

On the Sally show (taped October 19, aired October 30), I appeared with the Warrens and Snedekers as well as several of the latter's skeptical Southington neighbors. Ed made veiled threatening asides to me (not aired) and, offstage, swore like a sailor. During the taping, the Snedekers sat on a brass bed while telling their story of demonic sexual attack.

Among their most effective critics was Mrs. Kathy Altemus, who lived across the street from the Snedekers during their entire residence in the Hallahan House. Beginning in mid-July 1988, Mrs. Altemus kept a journal of events relating to 208 Meriden Avenue. As she told Sally, "I discovered that there were usually things going on in the neighborhood that explained the things they put in the newspaper." The journal—which she generously shared with me to help "expose the truth" (Altemus 1993)—juxtaposes her written records with news clippings arranged chronologically. The result is revealing. For instance, the television program A Current Affair mentioned the sound of clanking chains in the house, presumably from the coffin lift in the basement. But Mrs. Altemus's journal shows that the noise most likely was from a truck that passed by, making a sound like it was "dragging a chain." Other events also had credible explanations, some attributable to various passersby mentioned in the journal as "pulling pranks on the 'haunted house'" (Nickell 1995, 137, 147 n. 98),

The journal also sheds light on another event. As sensationalized in the New Britain Herald, either a "bizarre coincidence or ghost" was indicated by a power outage—caused by a tree limb that fell onto an electrical line outside the Hallahan House just after A Current Affair broadcast "a segment on the Snedeker family of that address." According to the paper a utility spokesman "was at a loss to explain just why the limb chose that particular time to knock out the power." In fact, however, the incident did not occur at the time of the television program but approximately two hours later. Besides, as the journal makes clear, such outages have occurred several times on tree-lined Meriden Avenue, when limbs have fallen on the uninsulated line. Such an event, in fact, actually occurred when I was in Southington at the Altemus home in June 1993. It seems unlikely that demonic forces were heralding my arrival or had no better means of attempting to scare me away.

Long before the Sally show, in response to the Warrens' shameless media exploitation, the Snedekers' landlady—who had served them with an eviction notice for failing to pay their rent—had responded to the supernatural claims. She and her husband, she said, had owned the property for two and a half years and experienced no problems with it.

"Personally, my husband and I do not believe in ghosts and to us, the whole issue seems ridiculous. I find it ironic that after more than two years as tenants, suddenly we are told about these alleged ghosts and then read in the paper that the Warrens will be conducting a seminar and will be charging the public for it.

"If the ghosts really are there, then why did the Snedekers stay there over two years and why are they staying there now? Are they looking for publicity or profit, or what?" the landlady said (qtd. in DiMauro and Starmack 1989).

The Snedekers' upstairs neighbor had similar views. Calling the Warrens "con artists," she said: "I haven't experienced anything. I definitely know that no one has been raped up here." She told reporters that the Warrens, who she was convinced were exploiting the situation for personal gain, "have caused a lot of problems here and they are not ghost problems" (Corica and Smith 1988b).

Other revealing information came to light in Southington—about Philip Snedeker's drug use, vandalism, and other misbehavior. There was even an explanation for the sexual touching that Carmen's niece had felt "from an unseen hand." The boy was actually caught fondling his nieces while they slept. "Steven" (as he is called in the book) "was taken away by the police that afternoon. He was questioned, at which time he confessed that he'd been fondling the girls while they slept at night, and that he'd attempted unsuccessfully to have sex with his twelve-year-old cousin." He was later taken to the juvenile detention center, where a psychiatrist diagnosed him as schizophrenic (Warren et al. 1992, 145–147).
Conclusions

Many people branded the Warren-Snedeker-Garton book fiction. Said the husband of the Snedekers' landlady: "It's a fraud. It's a joke. It's a hoax. It's Halloween." He added, "It's a scheme to make money." Those comments appeared in a brilliantly titled newspaper article (Schmidt 1992), "Couple sees ghost; skeptics see through it." As indicated by the evidence—the publicity-seeking actions in the case and the timing of the book for Halloween promotion—there is reason to doubt the motives of those involved. If the case did not originate as a hoax, I concluded from my original investigation (Nickell 1995, 139), people could scarcely be blamed for thinking it has been transformed into one.

Subsequent developments have only supported that conclusion. Some of the co-authors of the Warrens' books have reportedly since admitted that Ed Warren (who died in 2006) told them to make up incidents and details to create "scary" stories (Nickell 2006). Ray Garton, the award-winning horror writer who wrote the book about the Southington case—on which The Haunting in Connecticut movie is based—has now effectively repudiated that book. He says he is glad that it went out of print, adding: "The family involved, which was going through some serious problems like alcoholism and drug addiction, could not keep their story straight, and I became very frustrated; it's hard writing a non-fiction book when all the people involved are telling you different stories" ("Ray Garton" 2009). So much for the movie being "Based on True Events." l
References…
Full source:csicop.org
19 comments