Check out this really cool thing Rob Sacchetto is doing over at ZombiePortraits.com

The concept is really simple, yet the coolest thing ever!
Well, I think so anyways.
Submit your picture, pay $80 and get a portrait of yourself as a zombie.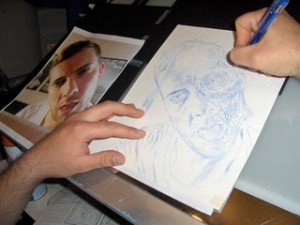 The portraits are all hand drawn and colored
For
$80
a piece you can have yourself "zombified".
Forget the dinner date or the jewelry. Show your significant other how much you really love them by giving them a portrait of their face, rotten!