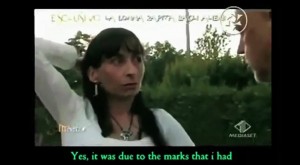 One of GhostTheory's loyal readers who goes by Jbondo sent me the following story about this Italian woman who claims to have been impregnated by aliens.
Now, I gotta say that without even looking at the video I had already concluded that this was just a hoax. Why? Well, Jaime Maussan's name is on it.
Not that I would believe that aliens would visit earth and impregnate women or anything, but the video does show a creepy fetus. I'm sure it's the fetus of some animal, hence the reason why I'm posting this up. Can any of you clever readers distinguish what animal fetus Maussan shows on the video?
Do you guys really think that we are visited by aliens who want to breed with us? If so, for what purpose? I'm sure the end result would be some horrible mutated abomination. Maybe they don't want to impregnate earth women. Maybe they just didn't use protection….. Maybe women find aliens sexy…… So If I was to go to another planet populated with alien girls….
*gets up and starts drawing up plans for a homemade spaceship….*
The following two tabs change content below.
I'm a writer, a runner, and a hell of a coffee drinker residing in Los Angeles. I'm currently working on a book about Doris Bither and her terrifying account of a haunting in Culver City, California. The case was dubbed "The Entity" and it stands to be one of the most controversial cases ever to be studied by parapsychologists.
Latest posts by Xavier Ortega (see all)