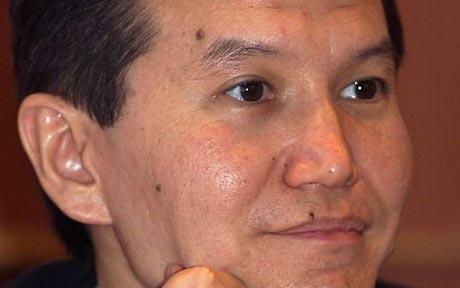 Kirsan Ilyumzhinov is the President of the republic of Kalmykia. A Southern Russia federation. President Ilyumzhinov has gone on public television to proclaim that while he was sitting in his apartment, falling asleep, he was awaked by strange alien beings in yellow "spacesuits" who offered to show him their space craft.
Ilyumzhinov claims that there were witnesses to these events and that this wasn't the only time he was visited.
He is also the President of FIDE (the World Chess Federation). To show how "eccentric" Kirsan Ilyumzhinov is, there is an article about his love for chess and his stoic attitude towards his people impoverished lives:
Kalmykia is a remote Republic in the South West of the Russian federation. It would have gone unnoticed were it not for its enterprising president, Kirsan Ilyumzhinov whose love for chess and acute public relations expertise has transformed the republic into an eerie example of post Soviet anachronism. Ilyumzhinov being the president of World Chess Federation took up the task of promoting chess by building a city dedicated to the sport. With a California style housing development project rising from the parched brown steppes of the capital city of Elista and a large dome like monument where chess masters practice their trade, the President has more than fulfilled his duties to the Chess governing body. However, there is one small problem. Three hundred thousand Kalmykians live in poverty and the source of funding for the construction of the Chess city is… not divulged.
Full source: Telegraph UK
A senior Russian politician claims to have met aliens on the balcony of his Moscow apartment, prompting critics to question his suitability to head up the World Chess Federation and run an internal Russian republic.

Kirsan Ilyumzhinov, the President of the republic of Kalmykia, made the extraordinary comments on Russian state TV last week, claiming he spent several hours in the company of aliens in 1997.

He said he was relaxing at his Moscow apartment when he heard his balcony door being opened and someone calling him. "I went there and looked. There was a semi-transparent pipe. I went into this pipe and saw people in yellow spacesuits."

He claims to have communicated with the aliens/humanoids through brain waves. "I was shown around their spaceship," he said with no apparent sign of irony, adding that the aliens explained that they were collecting samples. "I would probably have not believed this if there had not been three witnesses – these were my driver, a minister and my assistant."

The eccentric politician has made similar claims before but his repeating them on prime time state TV at a time when he is standing for re-election as President of FIDE (the World Chess Federation) has caused consternation.

Andrey Lebedev, a Russian MP, has even demanded that the Kremlin investigate the incident.

"I was surprised by those remarks and believe it would be worth while the president familiarising himself with them in order to be able to make his own assessment of the situation," Mr Lebedev said.

Bizarrely, Mr Lebedev said he felt it was necessary to check whether Mr Ilyumzhinov had revealed details about his job or state secrets during his unusual encounter.