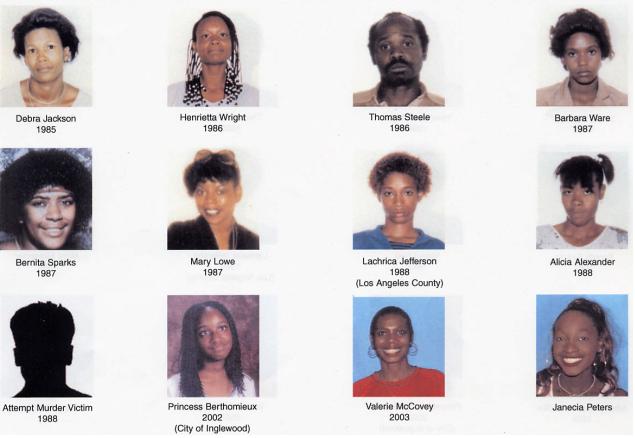 Yesterday I got a call from my brother (future policeman) telling me that the 'Grim Sleeper' had been caught. He found out from a friend of ours who is a detective at the LAPD. I couldn't make out exactly what he was saying since I was watching the World Cup game at the time and people around me were loudly cheering Spain's goal. Minutes later, I get an email from BC (loyal GhostTheory reader) sending me a link about the breaking news.
The LAPD has arrested several individuals before as suspects -they even held press conferences about the "breaking news"- so it was no surprise that I was kind of skeptical that this might be the guy. I decided to get in contact with our detective friend for further information on the case. I guess the LAPD was slammed yesterday because I did not get a reply until several hours later. His text read:
"DNA. It's him."
With those three simple words I went from pessimistic to optimistic. 57 year old Lonnie David Franklin Jr. was arrested at his 81st st home Wednesday morning and is being charged with 10 counts of murder and one count of attempted murder. A few miles away from were I live.
After many years of persistent work, they finally nabbed the notorious south LA killer.
Fry in hell Lonnie, fry in hell.
Full source: LA Times
The killings occurred over three decades along the major boulevards of South Los Angeles. Individually, they didn't generate much attention.

Then, the Los Angeles Police Department concluded that the slayings of 10 women were the work of one killer. And this gave relatives of the victims new hope the cases might eventually be solved.

On Thursday, the Los Angeles Police Department will hold its first press conference detailing the arrest on Wednesday of a suspect in the "Grim Sleeper" slayings. The families of many victims will be there to offer their thoughts on the arrest.

In interviews, some family members expressed joy that closure might finally come — but it was joy mixed with anger because the suspect turned out to be a resident of the neighborhood, described by those who lived near him as a kind and generous neighbor.

The suspect is Lonnie David Franklin Jr., 57. Police said DNA evidence linked him to the killings.

Franklin is charged with 10 counts of murder in the deaths of Debra Jackson, 29; Henrietta Wright, 35; Barbara Ware, 23; Bernita Sparks, age unknown; Mary Lowe, 26; Lachrica Jefferson, 22; Alicia Alexander, 18; Princess Berthomieux, 15; Valerie McCorvey, 35; and Janecia Peters, 25. He also is charged with one count of attempted murder.

Relatives of the victims said there was a period of time when they lost faith in the system. But when the slayings continued and police concluded they were the work of a serial killer, the families said police redoubled their efforts.

Alicia Monique Alexander, 18, was one of the Grim Sleeper's first victims, killed in 1988. Her brothers Donnell Alexander, 47, and Darin Alexander, 45, said they "never gave up hope. We were just hoping with all the new technology out now with DNA testing that they would get him. This brought us closer together. That's the positive that came out of her death. Now we hug one other not just on special occasions but every day."

"This won't bring our sister back, but our heart goes out to all the families that were as affected," Donnell Alexander said.

Franklin was a garage attendant at the LAPD's 77th Street Division station in the early 1980s, according to city and police sources. He worked as a garbage collector for the Los Angeles Department of Sanitation during the years that the first eight killings occurred. The string of slayings began with the death of Jackson on Aug. 10, 1985, and ended with the death of Alexander on Sept. 11, 1988.

Franklin has at least four prior convictions, two for felony possession of stolen property in 1993 and 2003, one for misdemeanor battery in 1997 and one for misdemeanor assault in 1999, according to court records. He was sentenced to a year in jail for the first stolen-property charge and 270 days for the second one.

Three years ago, Janecia LaVette Peters was found dead at Western Avenue near 92nd Street in South Los Angeles. She had been shot in the back and stuffed into a trash bag. She was considered the most recent victim of the Grim Sleeper serial killer.

Her aunt, Diane McQueen, 55, said the slaying shattered her family. "She was 25. It hit my family real hard. I had lost hope this day would come. I feel a lot of joy it did at last."

[Updated at 8:14 a.m.: Diana Ware, 71, the stepmother of Barbara Ware, who was killed two days after turning 23 years old in 1987, also was uplifted by the arrest.

"I hadn't lost hope, but I got discouraged," she said. "You get discouraged sometimes because it was taking a long time. But the detectives never gave up and kept in touch with us."

On Wednesday, the call finally came. "The detective called me. He said, 'Are you sitting down?' " Ware said. "I just yelled. I was so happy."]
2 comments