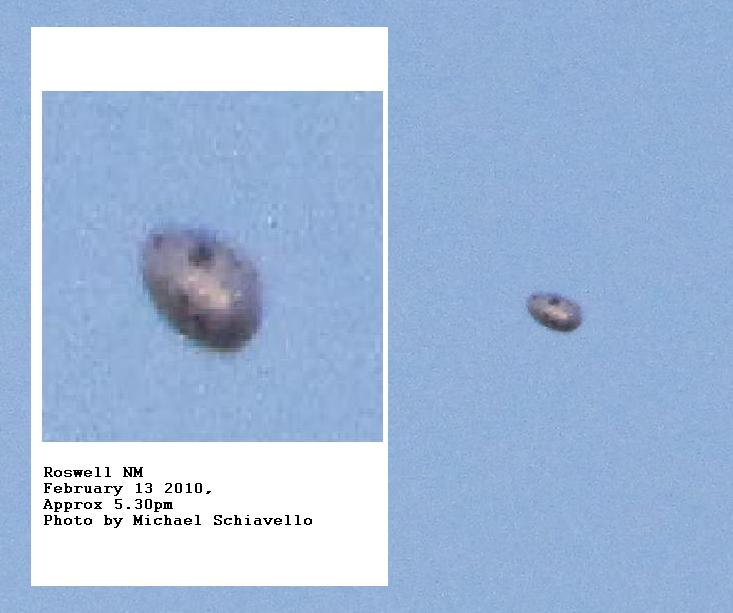 Brentwood residents are reporting an "egg-shaped UFO" that was seen zooming about on October 11, 2010. Near the A12 highway.
Egg-shaped UFOs have been reported throughout the ages. Depicted in paintings and sketches by witnesses. The image above is from a supposed egg-shaped UFO flying near Roswell NM on February 13, 2010.
Full source: ThisIsTotalEssex
By paul ainsworth [email protected]

A MYSTERIOUS egg-shaped UFO has been spotted in broad daylight above Brentwood.

Scaffolders were driving along Ongar Road near the bridge over the A12 when they were left stunned by the silver craft, which "zoomed" through the sky at around 1.30pm on Monday, October 11.

Matt Williams, 29, of Running Waters, Brentwood, was driving to a job in Ongar when his friend suddenly spotted the strange unidentified flying object in the clear blue sky.

Matt initially dismissed it as some kind of hot air balloon, but it was moving at such high speeds through the sky that he was not totally convinced

No noise could be heard coming from the object at ground level and it lacked the vapour trail normally associated with an aircraft.

"It was egg-shaped and silver. It was quite low in the sky – we didn't know what it was," Matt told the Gazette.

"It was moving really quickly and then it slowed down so we could get a good look at it, before it zoomed away into the distance. As it disappeared it appeared black at the back.

"We are not saying it is an alien. But there was something in the sky, we don't know what it was and we are scaffolders and in the sky quite a lot."

He added: "The speed was unbelievable. It was no plane. I was glad other planes were around because it showed how fast it was going. I have never seen anything like it."

Just days prior to the UFO spotting, a cyclist reported being surrounded by inexplicable lights in the middle of Thorndon Country Park late at night.

Investigator Mark Doulton of the Southend UFO Group & Essex UFO Investigations, said it was certainly interesting these two local sightings had happened so close together.

Speaking about the egg-shaped UFO he added: "From the first description it does sound like a hot air balloon but saying it went off at speed rules that out.

"It is an unusual shape but it is not unheard of."

Mr Doulton said cigar-shaped UFOs were far more common but he is interested in hearing from anyone who has seen anything strange in the sky.

The Ministry of Defence previously had a department dedicated to UFO sightings, but it was officially closed down at the end of last year.

Did you see the egg-shaped craft? If so, please call the Gazette newsdesk on 01245 603388 with details of your sighting.