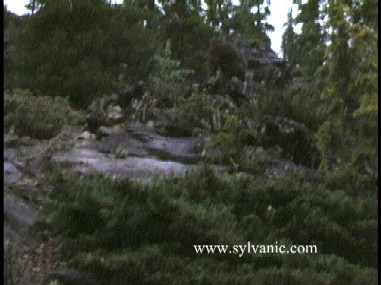 Here it is guys, the latest trailer from Mr. Todd Standing himself.
GT has interviewed Standing in the past, and it's produced a lot of chatter activity here on the site and on the outside internet.
Check out the new trailer from the upcoming 13 minute documentary of the Sylvanic enigma:
What do you think? Scared? Intrigued?
With all the heavy panting in the video, it seems like a dramatic encounter with the "Sylvanic Bigfoot". You can hear the terror on the :30 second mark when the guy shooting the video breaths heavily and yells:
"..WHAT THE FUCK DO YOU WANT!? WHAT THE FUCK AM I SUPPOSED TO DO!? WHERE THE FUCK AM I SUPPOSED TO GO!?…"
And then you hear more heavy breathing and panting, as if extremely exerted. It's exactly what I sound like and say during sex, by the way.
We are a growing group of independent researchers working towards definitive proof and protection of the species commonly referred to as Bigfoot.

In 2005 our initial group consisted of a cooperation of 4 people: a biologist from Great Falls, Montana; a Cree Nations elder representing the First Nations People; the skeptic Todd Standing; and a paramedic fire fighter from Calgary, Alberta.

After Todd went public with our work, enthusiasts, scientists, and wilderness experts from around the globe began to collaborate with the Sylvanic team. Now we collaborate with scientists from as far away as China and half a dozen forestry and wildlife officers in Canada and the United States.

Our tremendous success has come about from our enormous collaboration of minds, experiences, knowledge, and wisdom from all walks of life. Primatology meets first nations experiences; anthropology combines with the greatest hunting techniques on the planet. The experiences have been passed down through tens of thousands of years of first nations oral history and tradition with decades of scientific studies.

Our ultimate goal is to ethically introduce civilization to the most man-like primate on the planet.
25 comments