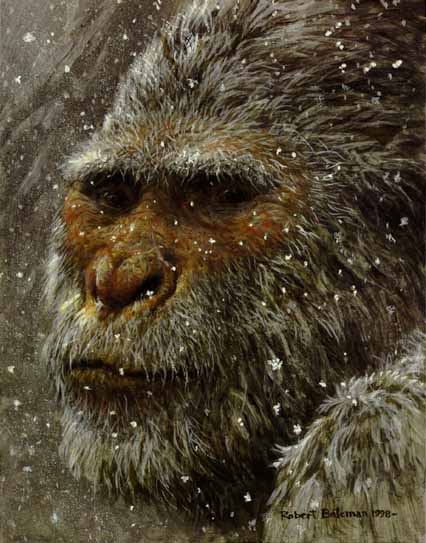 The media was quick –a little too quick– to publish articles proclaiming that U.S. and Russian scientists were 95% certain that the Russian Yeti exists. When I first read that headline, I knew that this was an exaggeration by the media. As they typically do, the media was quick to release erroneous information and blown-up facts about the latest U.S. intervention into the foreign crypto investigation. As if exploiting the American presence in Russia.
The fact is that Dr. Jeff Meldrum and others were not impressed by what they found over in the Siberian wilderness. In fact, most of what they observed; eg. broken branches and "nests" near caves and roads, looked to be carefully placed. The sites they visited looked suspiciously staged, and the roads and caves looked well maintained by the local municipality.
Upon finding out what the media was passing around as the truth, Meldrum voiced his resentment by doing an impromptu lecture called "The Russian Connection". A lecture that was not listed in the schedule during the Pennsylvania Bigfoot Conference. During his diatribe, Meldrum said that he felt "orchestrated" with "publicity stunts" to promote tourism for the region.
Read all about this Russian Connection drama over at Doubtfulnews, where Sharon Hill does an excellent job reporting.
Source: Sharon Hill, Doubtfulnews

Dr. Jeff Meldrum, professor of anatomy and anthropologist at Idaho State University, has spoken out about his recent excursion to Siberia to examine the existence of the Russian Yeti. Dr. Meldrum was a featured speaker at the Pennsylvania Bigfoot Conference in Youngwood, PA on Sunday, October 23. His conclusion: the yeti evidence was poor and he and other researchers were brought to Russia to add credibility to the local claim that yetis live in the area.

His presentation, entitled "The Russian Connection", was not the listed topic on the schedule. He noted that he changed his topic upon advice from the conference organizers after the media storm that ensued regarding the announcement that "scientists were 95% convinced" that the Russian Yeti exists. Along with American scientist John Bindernagle, and researcher Ron Morehead, Meldrum was part of the team invited to Kemerovo region of Siberia to discuss the formation of a scientific commission to study the yeti. Led to believe there was significant scientific interest by the academic institutions in the area, Meldrum expressed his dismay when the press coverage was greater than the public and academic interactions.

In his talk, Meldrum described the players involved in the conference that began in Moscow and ended in Kemerovo. Specifically, he named Igor Burtsev, director of the International Centre of Hominology in Tashtagol, Kemerovo region. Burtsev already holds the belief that yetis exist in the area and are a Neanderthal relic population.

Meldrum showed photographs and described how the local Russian contingent greeted and treated the invitees with much pomp and ceremony but little scientific protocol.

As in scientific conferences, the attendees were taken on a field trip to a cave in the municipality of Tashtagol. Meldrum said he began to get concerned about the event when twisted and broken trees were rather conveniently located near the sites they visited. Reservations about what he had gotten himself into grew when he noticed saw cuts in the trees. The guides pointed to every bent and broken tree as marks of the yeti. From what Meldrum observed, the cave was not remote but apparently visited rather frequently with the trail maintained by the local municipality. The group was told the cave was a probable yeti habitation. Inside the cave, Meldrum notes that "right on cue", isolated footprints and a "nest" were pointed out by their hosts.

Meldrum's impression was that the "evidence" looked more like a staged event. Only right foot impressions were found, not a trackway as would be expected. His remark about the creature "playing hopscotch?" made it into the local press reports. The print had uncharacteristic pressure ridges that Meldrum described as consistent with that made from a rigid wooden imprint.

When a comment was made that the "nest" hardly looked used, Burtsev jumped into it himself for a photo opportunity, oblivious of any potential evidence that might have been there. A hair sample was collected in the cave but not from the nest.

Read more: Doubtfulnews