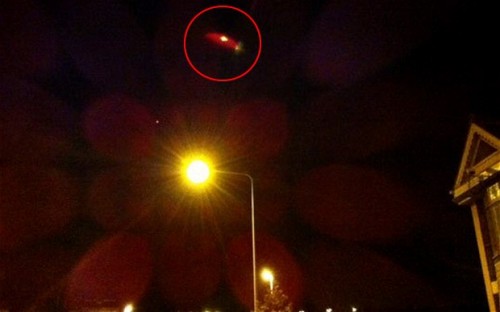 It's been a while since I've posted anything regarding UFOs. However, this one caught my eye, so I thought it might be interesting to get our readers take on it.
A gentleman named Gary McDermott claims to have spotted the object while photographing a helicopter in Plymouth, England.
Here's the bottom line on the incident from the telegraph:
Gary McDermott snapped the glowing red object, with bright flashing lights, after stopping his car to photograph a low-flying helicopter in Plymouth.

The disc-shaped UFO flashed across the sky – just as he was taking the picture – before it disappeared into the night at 9pm on Sunday.

Mr McDermott, who was working night shifts on the city's famous Royal Albert Bridge, said: "I just couldn't believe what I had just seen.

"It must have been a UFO – and I cannot believe I am saying that because I don't believe in them usually. I am always skeptical.

"But this was definitely not a normal aircraft. It was red, the shape they say UFO aircraft is, and had two bright lights coming out of it.

"It came into shot just as I took the picture – then as soon as I said to my mate 'look what I have just seen', it disappeared.

"Apparently there have been a few other similar sightings across Britain in recent weeks."

On January 6 two mysterious bright lights were spotted floating over Chatham in Kent.

Less than a week later four similar lights were seen over Essex – but none were as clear as Gary's Devon snap.

Devon and Cornwall Police said they had not been informed of any reports of UFO sightings in the area.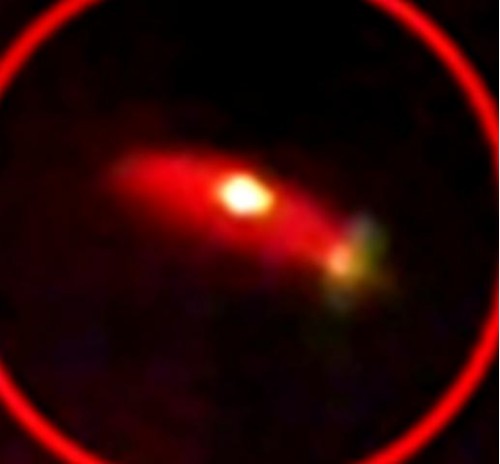 It would seem the wording used could be misunderstood. "Flashed across the sky" may imply it was moving at a high rate or speed or it could describe it as blinking in and out of view. Also, the object seems to have a very familiar…..
As much as I want to work this incident over, I'm going to stick with my NYR and keep my trap shut. I don't want to take all the fun out of it for those who were kind enough to read the article.
So, lets hear it! Is this a UFO, spacecraft from beyond or something more earthly?
Thanks to the telegraph for the lowdown.
Related Articles: