Alright people, I don't make em up, I just report em!
Of all the bizarre claims I've ever come across in my 20 years here at GT, this has to be top three on the list.
According to a story in the Nigerian Tribune, a woman gave birth to a horse during a service at the World Liberation Ministry church. That's what I said, a horse. Actually it was a foal to be exact.
Apparently this all happened at a prayer session during a prophecy program the church was running. Prior to the "incident", General Overseer of the church, Evangelist Silva Wealth claims he had a revelation prayer that a woman at the church had a blockage in her womb.
Commentary: *WhooOop* *WhooOop* Red Flag Alert!
Lets tune into the Tribune story and see what occurred, shall we?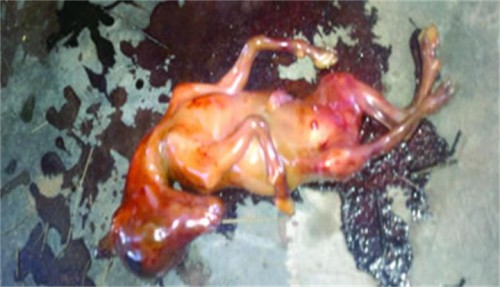 A woman purportedly Gave birth to a foal (horse like) creature, otherwise Known as a baby horse, on Tuesday, at the World Liberation Ministry, on the Benin-Sapele road old During the church's prophecy Programme.

The strange creature, Which Threw the church members into panic, had died by the time the church Following Journalists visited the strange occurrence.

The identity of the woman was yet to be Known but some church members said she started screaming During the prayer session and Began bleeding from her private part just before the foal-like creature emerged.

General Overseer of the church, Evangelist Silva Wealth, said I was still shocked by what came out of the woman's womb.

During I said I had a revelation prayers That there was a woman with an issue and That something was blocking her womb.

According To him, as Intensified prayers, the woman started screaming and Began to bleed and Eventually Gave birth to the creature.

Evangelist Wealth Could not have said the creature was confirm Whether dead or alive Because he did not go near it.

"I can not describe the object. We have seen several things people vomit During our service but not this type of thing. God has been blessing our ministry with prophecies and miracles, "I added.

The woman was Reported To Have gone for medical check-up When Journalists visited, just as elders and leaders of the church's host community, Evboriaria, Were Said To Have Launched investigation into the bizarre development.
Now, I'm not making any claims to disparage the World Liberation Ministry, but it seems a bit fishy that this happened during a "prophecy program" the church was running. Furthermore, the story mentions occasions where people had vomited up "objects" in the past. Add to that the prophetic prayer of Evangelist Wealth and it all becomes a shocking and amazing supernatural event that I'm sure they will use to the advantage of whatever agenda they are running.
Although the shock and awe of this event isn't the norm, the possibility that the whole thing smacks of specific purpose (dare I say profiteering), is an all too common theme among religious charlatans the world over. As a Christian, I am all too aware of false prophets and the tactics they use. From false healings where they miraculously pull masses from people bodies to psychics who use electronics and plants in audiences, there is no shortage of pretenders who prey on those in various states of mental duress.
As I said, I don't know enough about this particular church to make outright accusations, so, I'll leave it to the readers to decide for themselves.
The photo and quoted material were provided by the Nigerian Tribune.
Associated Content:
GT: Video: Is Web Bot the Anti-Christ?
GT: Britain's Best-Loved Psychic a Fraud? Radio Interview Included
GT: Skeptical Q&A with Chip Coffey