Be careful what you wish for. Once a draw for tourists, a claim to fame, an inspiration to authors, film makers and fans of the horror genre alike, Serbian Vampire Sava Savanovic is now believed to the on the prowl and the townspeople of Zarozje are genuinely terrified.
From the Daily Mail
'Put garlic in your windows and crosses in your homes': Serbian council warns residents vampire is on the loose after his 'house' collapses

* Sava Savanovic 'on prowl' after his watermill home in Serbia collapsed
* Legend has it he drank blood of anyone who came to mill their grain
* Mayor: 'We've also reminded people to put Holy crosses in their houses'

By Daily Mail Reporter

PUBLISHED: 04:30 EST, 27 November 2012

Sales of garlic are booming in western Serbia today after the local council issued a public health warning that a vampire was on the loose.

The official announcement came after an old ruined mill said to once have been the home of the country's most famous vampire collapsed.

Sava Savanovic was believed to have lived in the shack on the Rogacica river in Zarozje village in the municipality of Bajina Basta.

It is said he drank the blood of anybody that came to mill their grain.

The watermill was bought by the local Jagodic family and they were too scared to use it as a mill – but discovered it was a goldmine when they started advertising for tourists to come and visit it – always during the day.

The family were worried about carrying out building work on the mill because they were scared they might disturb the vampire or unleash his wrath.

And now the property has collapsed through lack of repair.

But for locals it has sparked rumours that the vampire is now free once again.

Local mayor Miodrag Vujetic admitted: 'People are worried, everybody knows the legend of this vampire and the thought that he is now homeless and looking for somewhere else and possibly other victims is terrifying people. We are all frightened

He added that it was all very well for people who didn't live in the area to laugh at their fears but he said nobody in the region was in any doubt that vampires do exist.

He confirmed that the local council had advised all villagers to put garlic on their doors and windows to protect them from the vampire as it was well known they can't stand the smell.

He added: 'We have also reminded them to put a Holy cross in every room in the house.'

Villagers who cashed in catering to tourists fascinated by the legend of Savanovic say they now wish they had left the place well alone.

Savanovic features in the 1880 story Posle Devedeset Godina (After Ninety Years), written by the Serbian realist writer Milovan Glišić who inspired the 1973 horror film Leptirica

He also appears in the novel Strah i njegov sluga (Fear and His Servant) written by Mirjana Novaković.

Other famous vampire cases in Serbia include those of Peter Plogojowitz and Arnold Paole.

Plogojowitz, a peasant, was said to have died at the age of 62 in 1785, but reportedly returned from the grave to ask his son for food.

When his son refused, Plogojowitz brutally murdered him.

Later, the villagers decided to exhume the son's body to look for signs of vampirism and were shocked to apparently find a fresh corpse with 'new skin and nails'.

They said blood could be seen at the mouth.

They proceeded to stake the body through the heart causing 'completely fresh' blood to flow through the ears and mouth of the corpse.

Finally, the body was burned.

In the other case, it was said Paole, a soldier-turned-farmer, was attacked by a vampire and went on to kill a dozen people in the surrounding area in the early 18th Century.

Both cases became famous because the Austrian authorities, who at that time controlled Serbia, appeared to confirm that vampires did indeed exist.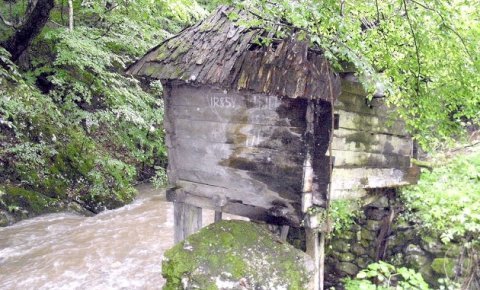 Savanovic's millhouse
According to ABC News
Austrian forces returning from conquests in Ottoman Serbia in the early 1700s brought back vampire stories, which circulated throughout Europe, later inspiring Byron, Keats and Coleridge, he claims.

"In 1730-31 the Austrian Army sent a military surgeon into Serbia to conduct autopsies on suspected vampires. He and other Austrian Army officers wrote of their experiences, and these records still exist today," Lyons said.

Documented reports of vampire-related activity continue to this day throughout the Balkans, the most recent having occurred in 2011 in Serbia.

Back in Zarozje, villagers will have to be on their guard for at least seven more months, because local legend holds that vampires are most active between Christmas and the Feast of the Ascension on June 7.
Other Vampires mentioned are Peter Plogojowitz
Peter Plogojowitz lived in a village named Kisilova (possibly the modern Kisiljevo), in the part of Serbia that temporarily passed from Ottoman into Austrian hands after the Treaty of Passarowitz (1718) and was ceded back to the Ottomans with the Treaty of Belgrade (1739) (see Arnold Paole – Background for more details on the historical context). Plogojowitz died in 1725, and his death was followed by a spate of other sudden deaths (after very short maladies, reportedly of about 24 hours each). Within eight days, nine persons perished. On their death-beds, the victims allegedly claimed to have been throttled by Plogojowitz at night. Furthermore, Plogojowitz's wife stated that he had visited her and asked her for his opanci (shoes); she then moved to another village. In other legends, it is said that Plogojowitz came back to his house demanding food from his son and, when the son refused, Plogojowitz brutally murdered him. The villagers decided to disinter the body and examine it for signs of vampirism, such as growing hair, beard and nails, and the absence of decomposition.
…And Arnold Paole
Arnold Paole (died c. 1726) was a Serbian hajduk who was believed to have become a vampire after his death, initiating an epidemic of supposed vampirism that killed at least 16 people in his native village of Meduegna (also rendered as Metwett; likely a German rendition of Serbian Medveđa, not to be confused with the modern Southern Serbian town of Medveđa), located at the Morava river near the town of Paraćin. His case, like the similar case of Peter Plogojowitz, became famous because of the direct involvement of the Austrian authorities and the documentation by Austrian physicians and officers, who confirmed the reality of vampires. Their report of the case was distributed in Western Europe and contributed to the spread of vampire belief among educated Europeans. The report and its significance for the subsequent Eighteenth century vampire controversy are nowadays explained with the poor understanding of the process of corpse decomposition at the time.

Knowledge of the case is based mostly on the reports of two Austrian military doctors, Glaser and Flückinger, who were successively sent to investigate the case.
So let's start planning those Serbian vampire vacations and do our part to boost the European economy.
To make travel plans, contact