What could befit both the celebration of a man's life, and remembrance of his death in more appropriate fashion than the long running tradition of the "Poe Toaster?"
Though this story is a year old, it was sad news to me as I was reading up on events to bring to GT readers. Poe has always been a favorite of mine and I return to his stories with some frequency. It was as I recalled that the anniversary in question was approaching that I decided to look into this one and belatedly learned of the current state of the annual event.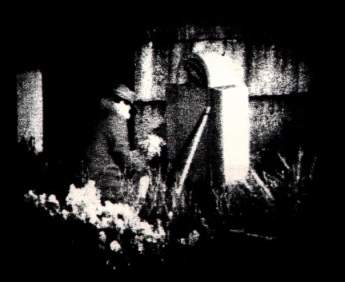 According to The Baltimore Sun

Tradition of the Poe Toaster may be nevermore
After three years of no-shows, Poe House curator declares an end to the ritual

Roses on Edgar Allan Poe's grave site (Algerina Perna, Baltimore…)
January 19, 2012|By Chris Kaltenbach, The Baltimore Sun

Even in a city defiantly proud of its quirks, the Poe Toaster stood out.

Every year for more than half a century, in the early-morning hours of Jan. 19, a mysterious figure would quietly leave three roses and a half-emptied bottle of cognac on the grave of Edgar Allan Poe — a birthday tribute to a towering literary figure.
But early Thursday morning, for the third year on a row, the Poe Toaster was a no-show, signaling an end to one of the city's most enduring — and most mysterious — traditions.

A tired Jeff Jerome, curator of the Edgar Allan Poe House and Museum, "officially" pronounced the Poe-toasting tradition over. After spending the night inside Westminster Hall awaiting the Toaster's arrival, Jerome declared that the furtive stranger's poignant tribute would be nevermore.

"I more or less resigned myself that it was over with before tonight," said Jerome, who has been curator of the Poe House — and de facto keeper of the Poe flame — since 1979. "What I'll miss most is the excitement of waiting to see if he's going to show up."

As he had for the past 15 years or so, Jerome spent the night inside the former church on West Fayette Street, just yards away from Poe's grave, with a small group of friends. Outside, dozens of fans — including visitors from Rhode Island, Chicago, California and even Russia — held their own vigil. But the Toaster, whose identity has remained a mystery since at least the 1940s, never made an appearance.

No one has ever known for certain the Toaster's identity — not even Jerome. Many regard Jerome as a likely candidate, but he has always insisted it isn't him.

Others, however, did their best to make up for the Toaster's absence this year. Three would-be successors showed up, but there will be no acknowledged successor to the toaster throne, Jerome said.

He and the Toaster had long ago worked out a way of ensuring no impostor could horn in on the tradition. Jerome has always refused to explain it, beyond saying it has to do with what the Toaster does at the grave site. But the real thing never showed up this year, Jerome said.

"I give them an 'A' for effort," said Jerome, who waited until 6 a.m. before calling off his vigil. "I was referring to them as fake Poe Toasters, but that sounds kind of harsh. But it was obvious, when we saw them, that they weren't the original."

One of the men who showed up had a cane, Jerome said. Another wore an outfit similar to the Toaster's — pretty much all black — but the resemblance ended there. A third dressed in a manner Jerome labeled "snappy," though not very Toaster-like.

Poe, an early master of the horror story and inventor of the detective tale, was born in Boston in 1809. He spent a few years in the 1830s living in Baltimore with several family members, including his aunt, Maria Clemm, and her daughter (and his cousin), Virginia Eliza Clemm, whom he would marry in 1835. He died in 1849 in Baltimore under still-unexplained circumstances, having been found wandering the streets incoherent and wearing someone else's clothes.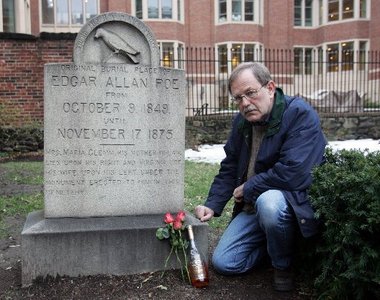 Associated Press Photo
Jeff Jerome, curator of the Poe House and Museum in Baltimore, poses in 2008 next to items left at the original grave site of author Edgar Allan Poe by the "Poe Toaster, " Saturday, Jan. 19, 2008. Poe will be feted at birthday parties in five cities in January celebrating the 200th anniversary of his birth.
A few attempts were made early on to identify the original "Toaster" but these were put to a stop by the caretakers of his grave site. Instead, the tradition became a matter of curiosity to fans and a tourist attraction permitted only to be viewed from a distance that preserved anonymity. Now it appears that anonymity will be carried to yet another grave.