Home » Audio, Conspiracies, Follow up, Headline, Latest Evidence, Macabre, Mystery of History, Paranormal, Research & Science, Weird news
Windsor Hum
Strange noises from unknown sources have been occurring world wide and we have been bringing in the reports here. Causes have been attributed to sources as esoteric as HAARP, as unlikely as singing fish, and as typical as hoaxed attempts to generate viral feedback for whatever JJ Abrams' latest brain numbing blockbuster might be. Conspiracy boards have also offered the sounds heard world wide as coming from underground bases belonging alternately to alien forces, or world powers, and I am certain the Hollow Earthers have their version of that one as well.
According to a report in Canada's National Post the Canadian government is launching a study into the source of the loud humming that has been plaguing the city of Windsor, which borders the US city of Detroit across the narrow channel that connects Lake St Clair Lake Erie.
Canadian government to explore source of mysterious 'Windsor hum'
National Post Staff | Jan 21, 2013 3:19 PM ET

The Canadian government announced it was launching a study into the source of the mysterious "Windsor hum," a loud vibration that has caused complaints from citizens in the Ontario border city for nearly two years.

Ottawa is funding a study by scientists at the University of Windsor and Western University into what is causing the recurring vibration, which has been powerful enough to knock objects off shelves and rattle windows.

"Our government takes this issue seriously and is following up on our commitment to find a solution that works for the people of Windsor," parliamentary secretary for Foreign Affairs Bob Dechert said in a statement Monday.

An earlier investigation by Natural Resource Canada pinpointed the noise to the Michigan industrial area of Zug Island.

River Rouge (the municipality that includes Zug Island) has said they do not have the funds to investigate the source of the hum any further than they have.

Residents have said the hum is hurt their quality of life and disturbed their sleep.

"We have picture frames on the wall and they were shaking last night," Sonya Skillings, a mother of two, told The Windsor Star last January. "It's never been that bad where we actually had things move on the walls."

Residents have described the hum as similar to a truck idling.

"Our government will continue to work with the people of Windsor and others to hopefully pinpoint the source of the Windsor Hum," Dechert said. "We want to protect citizens' quality of life. To get a solution, we first need to find the source. This study is a step in the right direction."

With files from Postmedia News
Zug is a man made island at the convergence of the Rouge River with the Detroit River, formed when a shipping canal was dug along the southwestern side of the island, allowing ships to bypass several hundred yards of twisting waterway near the mouth of the natural course of the lowest portions of the River Rouge.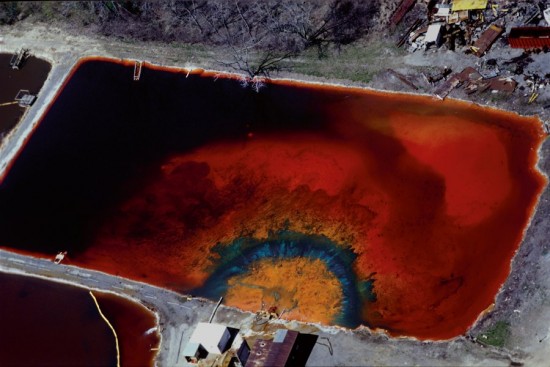 From The Day After Tomorrow by J Henry Fair, published by powerHouse Books
Read more about Zug Island
Here is a sample of the Zug Island/Windsor Hum from The World
To read up on the subject, occurrences have been recorded in:
Seattle
You need to scroll down a little as there are two stories in this article
India
Eastern Pennsylvania
Yellowstone
Alberta
Costa Rica
Belarus
Ukraine
Ontario
And of course Another Possible Explanation
The list goes on, as I am sure we have not covered all the stories. If you have heard a hum in your home town, or while visiting another place, especially if you have recorded such a hum and would like your story told in your own words feel free to contact us.
The following two tabs change content below.
I would like nothing more than the proof of various cryptids, alien civilizations, even alien visitors to be found. But that proof will come only through rigorous science and objective analysis, and by holding evidence to the highest standards of scrutiny. Born in south eastern Pennsylvania, i have found myself at one time or another living in Chicago, Cleveland, Raleigh-Durham, on the island of Kaua'i and finally landed on the Olympic Peninsula of Washington State. I have turned my hand to various professions from early work in 3d graphics to historic building restoration, carpentry and log home building to working in a bronze art foundry on the WWII Veterans Memorial. Currently I am a writer, script writer and working for a non profit organization called Empowerment Through Connection which is involved in equine assisted therapy for veterans, at risk teens and women.
Latest posts by Henry Paterson (see all)