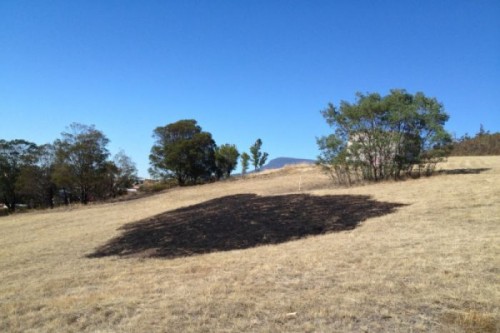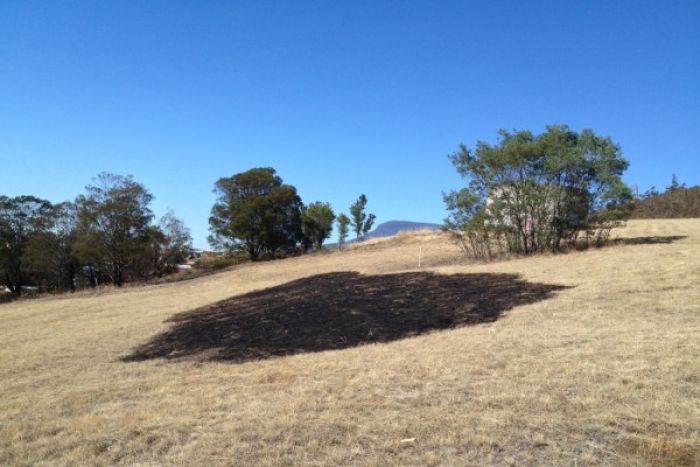 Tasmania, Australia. Residents from the suburb of Hobart flooded the local police stations with calls of a mysterious beam of light coming from the sky according to ABC.net.au news. Police and fire investigators arrived where the light beam was reported to shine down on. A large scorched section of the earth was found, but nothing else.
Fire officials believed the fire and 'bright light' could have come from a flare being shot into the night sky, but once the investigation took place, they were unable to find the remains of the flare or any other incendiary device.
Tasmanian police and firefighters are unable to explain the source of a beam of light which reportedly fell from the sky and formed a circle of fire in a Hobart suburb.

Early Saturday morning police and fire crews received calls from concerned residents in Carnegie Street at Claremont, who reported seeing a bright light igniting a fire in a nearby paddock.

Tasmania Fire Service officer Scott Vinen says the blaze was quickly put out, leaving an obvious burnt patch.

He says the bizarre incident has everyone baffled.

"Once we put the fire out, we kind of walked through the fire and tried to find something," he said.

"We thought a flare or something may have landed there, but we couldn't find any cause."

The Fire Service says it will not investigate further. –source: ABC.net.au
I'm willing to bet that most people can distinguish a beam of light from a flare. In this incident, several residents reported seeing the mystery beam touch down on an empty field and instantly ignite the dry grass. With no official explanation and a scorched patch of earth left at the scene, it's no stretch of the imagination to think about the so-called Death Ray or even a very unfriendly UFO.
Then again we must remember that the simplest explanation almost always will suffice. In this case, a wild lightning strike could be to blame of the reports of a bright light and fire among the Tasmanian countryside. Your thoughts?