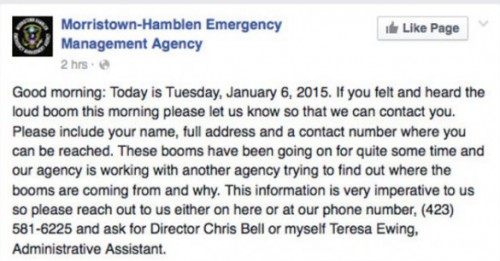 Whenever there's a mysterious boom, experts are always ready with an answer. Weather anomalies, aircraft take-offs, generators, even alcoholism. But some mysterious booms that occurred recently in Morristown, Tennessee, have even the authorities baffled
The county seat of Hamblem, Tennessee, Morristown boasts a population of about 30,000 people. Mystery booms have commenced in the area since the start of February 2013. Not unlike this time, the authorities failed to determine any probable reason behind the booms, as there were no earthquakes, explosions, etc. happening. But it seems this time, the authorities are more than interested in finding a solution.
Chris Bell, director of Morristown EMA, mentioned that the agency has widespread reports of similar mystery booms, especially from this Tuesday morning. The EMA is now working with the Center for Earthquake Research and Information and the Tennessee Emergency Management Agency, which has supplies for seismic equipment to point at the location of the mystery booms. Together, the two agencies hope to determine a probable cause soon.
So far, there's only speculation, though Chris says they are working to rule out man-made causes first, before moving forward to explore weather anomalies and other reasons.
Meanwhile, the extensive attention provided by the government in the mystery booms which generally don't get their attention has already lead conspiracy theorists to scream cover-up. Whatever be the cause, the Morristown EMA is paying some a little too much attention in the matter. What's your say?
As always, do visit All About Occult to quench your fortean thirsts.
4 comments