Home » Headline, Paranormal
Bird Cage Theatre: A Strange Photograph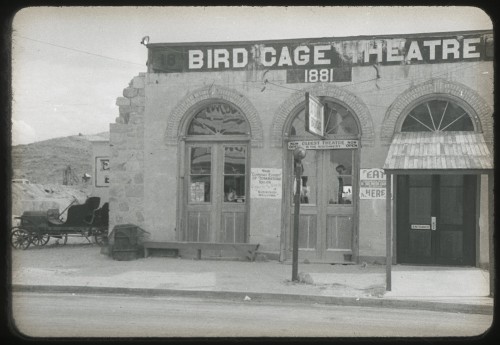 The following account and photograph was posted on /r/Paranormal by Redditor Pain_Fly.
About 8 years ago my family and I took a trip down to Tombstone AZ, one of the more famous ghost towns in that area of the US. I was quite a bit into the paranormal at the time, so naturally I was more than excited to stop by the haunted Bird Cage Theater. This is where the two photos you see were taken.

No, I didn't see anything at the time while taking the photo. However, about five minutes after taking that photo my brother started freaking out about seeing a figure in that same area. It's neat that after looking through the photos we had something to back his experience up.

My favorite thing about the photo is that this isn't just some random black blob. This is an actual female figure. Even with the image quality being what it is you can still zoom in and make out a surprising amount of detail. A necklace is easily visible. You can also make out bare shoulders and where the dress starts. Details of the face are harder to make out, but I almost want to say it looks like she's wearing a bird mask.

The other photo pretty much debunks most possibilities of this being camera trickery, especially when you look at the side-by-side comparison. But hey, if anybody can come up with a reasonable non-paranormal explanation for this photo, I'd love to hear it. Needless to say I've been pretty convinced of the existence of the paranormal ever since taking this.
The above images show what appear to be a dark silhouette standing next to a display rack. One could possibly dismiss this as a hoax done by photo manipulation but then other readers from /r/Paranormal began to dissect and analyze the photograph using imaging software. What they find only adds to the mystery of what this ominous looking shadow really is.
Redditor  CanadianBigfoot steps up to analyze the photograph:
Hi there… I'm actually a Photoshop expert so I took the liberty of analyzing your photo. I used a couple of techniques, including a Bas Relief (Yielded no results aside from a bit of contrast in facial features) but what was really kind of weird was an inversion showed not only some facial features, but if you look really closely near the bottom of the figure (I highlighted it) there actually seems to be a word that shows up in the image using an older cursive style text that says Lady. By observing the surroundings, this feature occurs in between the matrixing from the mesh you shot through. Now, keep in mind this is what I see, but I know these shapes in noise don't occur wantonly so this is either a by-product of intentional interference (the photo was manipulated or produced) or something even more interesting occurred and you captured it.

I can tell you right now that whatever is in the image also existed in the physical space the image was taken in because of two things: accurate lighting and correct noise levels, which are the two hardest things to fake in Photoshop. It took me about 5 years of practice and digital painting to be able to do it with credible accuracy, so we can't discount that someone who is very familiar with Photoshop has indeed altered this image. I have included a link to my analyses here:
The following two tabs change content below.
Based in Brooklyn, NY, I write about all things creepy and strange. My book based on the real haunting of Doris Bither (The Entity 1982 movie) will be released soon. Got a question? Drop me a line.
Latest posts by Xavier Ortega (see all)