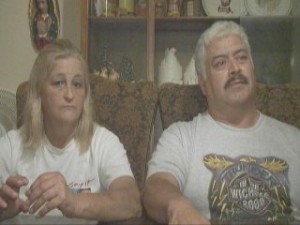 Roy & Gloria Solis refused to set foot in their home again in fear of the haunting

Click Here for the video.
Interesting article I came about today about a haunting in a home in Oklahoma. The owners of a small home in El dorado, OK, claim that their house is haunted by a "demon". The claim of the demon comes from their account of disembodied voices heard around the house, as well as eerie growls emanating from their upstairs floor. The home owners also claim ectoplasmic residue was left on their heads while they slept, forming strange symbols on Gloria Solis' face.
Oklahoma Paranormal Research and Investigations (O.K.P.R.I) has launched an investigation at the claims being made. What do you guys make of this?
Roy and Gloria Solis recently moved into a home preparing for retirement. Now, they're preparing for a ghost investigation.

From day one, the couple experienced things that they couldn't explain. Gloria heard growling coming from her upstairs.

"The growling happened right away. Then when we started remodeling, doing things to the house, it started to get worse," Gloria said. "If we start doing something to the house, it seems like something gets mad at us."

Both Gloria and Roy feel unwelcomed in their own home.

"They want us out of this house," Roy said.

"I feel like there's a demon in here," Gloria said. "I feel like there's demons."

The Solis's contacted Christy Selfridge with Oklahoma Paranormal Research and Investigations. The activity within the house had escalated to the point of leaving physical markings on the homeowners.

"They had a fear prior to us coming in that it was something so bad, they were going to end up hurt," Selfridge said. "They woke up one morning and she had these symbols written on her face and forehead."

According to Selfridge, there was activity taking place within the home right before O.K.P.R.I. arrived the night of the investigation.

"When we got there, they were waiting for us in the yard. They had so many things going on, they couldn't even stay inside the house," Selfridge said. "They told us, 'Here's the keys. Here's how you lock it up. We're out of here'."

The fear that Roy and Gloria is experiencing is real. They want to figure out what exactly is happening within their home before their experiences become permanent.

"We're staying at Altus a lot at my mother's house because we're really scared something bad is going to happen to us," Gloria said.

"This last episode we were both asleep," Roy said. "Next time we might not wake up."
Full source: News9