The following article is unedited and outdated. Click above for a more recent story.
The investigation on August 22, 1974, in Culver City California was to be like any other one Dr. Barry Taff had done. Believing that this would be an open and shut case they showed up at Doris Bither's house. Not expecting much. Little did they know this would be one of the biggest cases in the annals of paranormal history.
Dr. Barry Taff and his associate Kerry Gaynor were overheard talking about the paranormal by a woman in a local bookstore. The woman approached the two men and told them that her house was haunted. She gave Kerry Gaynor some details of the haunting, in which Gaynor told her that he would discuss this with his associate.
Dr. Barry Taff and Kerry Gaynor arrived at the 11547 Braddock Dr. Culver City home on August 22, 1974. Doris Bither, a petite woman, in her 30s greeted them. Doris Bither lived in the small home with her six year-old daughter and her three sons. Her daughter was six years old, and her boys were ten, thirteen and sixteen.
The house at the time was in shambles. Squalid living conditions and a tumultuous relationship between the mother and male children is what investigative team observed upon their first visit. The investigators reported a feeling of overpressure in their ears while being inside the home. According to Taff, the house was twice condemned by the city.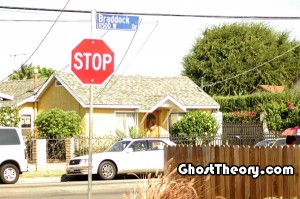 11547 Braddock Dr. Culver City CA.
The infamous "Entity" house
From what is known, Doris Bither suffered abuse from her parents as well as had several abusive relationships with men. There was obvious tension between the three young boys and the mother. The psychodynamics of the home were extremely negative. It seems that the boys, especially the eldest, would harbor some dark and resentful feelings towards their mother. The unconscious mind that is troubled by a physically or verbally abusive environment and negative upbringing is like a lightning rod to paranormal activities. Either attracting poltergeist activity or psychosomatically creating it.
Doris Bither claimed that spirits would physically attack her. The reports ranged from Doris walking around her home and bumping into the ghosts, to actual spectral rape. Of course, Taff and Gaynor were skeptical of all this. Ghost apparitions are a hard thing to prove and collect evidence for (from a scientific perspective). "Ghostly rape" is even harder to believe. It was not until they saw the bruises in her inner thighs and all over her body, as well as people outside the family corroborating by testifying that they had also seen apparitions that both investigators started to take heed as to what Doris was saying. Doris claimed that the ghosts were of Asian men. The children, also saw these beings. The visions were so frequent that they children dubbed one of the more prominent ghost as "Mr. Whose-it."
The claim of rape by these beings is one of the most interesting aspects of the case. Doris Bither reported that two of the beings were the smallest ones and would hold her down while the biggest or tallest one of them would rape her. Dori's eldest son would admit to seeing her mother being tossed around the room. In one instance he tried to intervene and was thrown across the room by the unseen force.
To both investigators, this must have been the most bizarre claim to date. How can you prove "spectral rape" or even claim it? it would seem that a person would have to be insane to even admit this. The team decided to setup shop and brought in high-speed cameras and photographers as well as other investigators to help capture something on tape. In a famous report, all investigators and equipment, as well as Doris, were in the small bedroom. Cramped and anxious to see any paranormal activities, they decided to have Doris conjure up the beings by having her call them. Doris began swearing and yelling at the spirits while 30 or so investigators were crammed in her room.
To much surprise, lights started manifesting around the room. As Doris kept provoking the beings, a greenish mist started to form in a corner. As if it was coiling, the green mist started swirling and growing. Within seconds the form of a man's upper torso started to become visible in the mist. Very large and a lot of muscles is what they reported seeing. The torso of the being did not show facial details, but did show the investigators musculature. From what they gathered, this was a male entity. An investigator soon fainted after seeing this.
No matter how many high-speed cameras were setup to capture this, or that the team even had professional camera men present; none of this ever came out on film. The pictures only shows what appears to be a free floating arc light in the middle of the room as well as some light orbs. The most famous and incredible of these photographs is the one that shows Doris sitting on a bed, investigators surrounding her and the free floating arc of light in the middle of the picture. What's incredible and equally unbelievable is that the arc of light appears smooth, even though this is a room with corners and one would expect bends in the arc as when someone uses a projector to display an image and the image hits corners in a room. The image will bend. The photographic evidence produce by the team shows the arc of light floating above Doris Bither with no bends, even though behind it, we see the room's corner.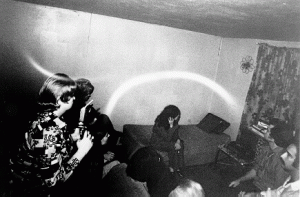 Conjuring up the ghosts, an arc of light is photographed (Doris Bither sitting on the bed)
Dr. Taff also reported that the eldest son would go on a say that the activities intensified when ever he played certain music. Black Sabbath & Uriah Heep were the albums played. The songs that mention or were about devil worshiping is what seemed to upset the poltergeist. Asking the boy to play the songs in question, Dr. Taff did observe that the lights and orbs did increase.
The investigative team observed lights and poltergeist activity for about two and a half months. As time went by, the activities decreased.
It is important to point out a few factors in this case; Doris' addiction to alcohol and her being abusive and belligerent almost on a daily basis, as well her unwillingness to seek help for her abuse and deal properly with it. Because of her refusal to properly deal with her own psychotic issues, I believe that her energy and the energy in her home manifested itself as poltergeist phenomenon.
We have to take into consideration that the paranormal activities were extremely powerful only when Doris was present in the home. Doris almost always in a drunken stupor seemed to be the center of it all. While intoxicated, Doris would attract the phenomenon almost on cue. There were times when she was present with the team and was not under the influence of alcohol that the poltergeist did not manifest itself. Which we can only conclude that when Doris' mind was clouded and her inhibitions minimized, her psychokinetic energy took over.
It is not a far stretch of imagination to say that there were some very concerning underlying themes in this case. Let's take for example how Doris claimed that there were three entities that attacked her. These entities controlled her life and to some extent oppressed her. It will not be a stretch, from a psychological stand point, that these entities could have been a physical manifestation of the relationship Doris had with her own three sons. From the reports of Dr. Taff, we know that her relationship with her sons was not a Norman Rockwell painting. As I discuss this event with my fiancee, she makes a very good and intelligent point: Doris had suffered abuse almost all her life. The fact that she abused alcohol and self-medicated to avoid the post-traumatic stress from her abuse could have had a metaphysical effect in her life.
My fiancee has the following thoughts. One, Doris Bither could have been extremely psychic or "sensitive". Doris could have had a great talent, but her own refusal to deal with her past abuse and the fact that she self-medicated and kept her mind clouded did not let her use that talent. Instead, because of her addiction and self hate, she could have manifested this poltergeist as another way (besides the alcohol) of attacking herself.
Doris Bither and her sons (especially the eldest) could have been psychic. It is well known that parents sometimes pass down their psychic abilities to their kids. In other words, psychic parents produce psychic kids. If the parent was psychic, and the kids were psychic, the tumultuous relationship in the home could have produced a staggering amount of psychokinetic energy. Enough energy to physically manifest poltergeist activity. The feelings that Dori's kids could have had against her and her addiction can be represented by the Hephaestus Syndrome. Hephaestus being the Greek god of fire and metallurgy, was kicked off Mount Olympus by his abusive mother. Hephaestus held a very turbulent relationship with his mother. Chaos and love combined in a love/hate relationship.
The same way Doris' sons could have had a relationship with Doris. A strong love/hate relationship fueled by past abuse, alcohol and psychic abilities is a powerful concoction for poltergeist or psychokinetic energy. We can formulate this manifestation of the "spectral rape" by Doris' description of her attackers: two of the smaller entities held her down, while the biggest one raped her. We can speculate that the Bither household was very unstable. Her coming-of-age son (the biggest one of her three sons) was probably harboring some resentful feelings towards his mother and her lifestlye. She in turn, saw her son as another man in her life trying to control her or attack her; therefore in turn subconsciously materializing the rape or attack on herself and using her current feelings and occupants in the house as the basis for the rape. This would not corroborate with her son testifying that he was too attacked and thrown across a room, but psychokinetic energy can be powerful enough to affect physical objects from what I've studied.
Another theory my fiancee mention could be that Doris Bither could have attracted 3 evil spirits into her life. It could be argued that Doris Bither could have been abused by three influential men in her life (father, uncle, grandfather or someone she trusted). The combination of her self-medicating and having psychic abilities as well as self-loathing could have made her into an attractive victim to malevolent forces. Her turbulent lifestyle and energy as well as her kid's energy could very well have manifested her feelings into something very evil in a metaphysical level. Post-traumatic Stress Syndrome and psychic abilities can have a great effect one a person. A person that does not know about their abilities and/or is under the influence of a drug can have a great effect on their surrounding environment. Take into consideration the infamous "Bell Witch" haunting.
The Bell Witch Haunting is an old legend. In 1817, John Bell reporting poltergeist phenomenon. The case was made famous by the reports of then General Andrew Jackson (who later became president of the U.S). John Bell's daughter, Betsy Bell, was at the center of this haunting. She was physically attacked by the ghost(s). There is a theory floating out there that the child was extremely psychic and had suffered from sexual abuse (possibly from her father). Accounts of levitation, spectral noises and disembodied voices were reported. The theory states that all this phenomenon could have been produced by Betsy Bell herself. Living in an unpleasant environment and seeking help, she started to manifest these attacks.
After Doris Bither left her Culver City home, the phenomenon was ceased to exist in the house. Future residents of the house have not reported anything out of the ordinary. The house remains to this day ghost free and is in good conditions.
Dr. Barry Taff reported that Doris Bither moved from Culver City to Carson CA. From Carson to San Bernadino CA, and from San Bernadino to Texas and finally back to San Bernardino. While jumping around the two states, Doris reported that the phenomenon "followed" her and her family to every place they moved to. Feeding the notion that the poltergeist phenomenon was a manifestation of her unstable environment and mind. He also reports that her psychological state is made apparent when she reported being impregnated by the ghost. Medical test showed her to not be pregnant but suffering from an ectopic or a hysterical pregnancy.
No one can say for sure what could have been going on with the family in that small Culver City house. Since Doris Bither has not been heard of since the late 80s or 90s (depending on some reports) and her kids have not come forward, we cannot know for certain.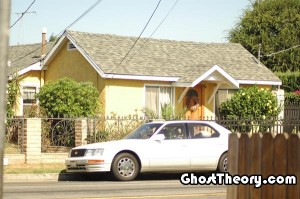 The "Entity" house as it currently stands
Afterword:
The events and reports in this article were taken from written testimony of Dr. Barry Taff in his "Real-life entity case" article.
Note: Link no longer available
What do you think about this case and the theories presented therefore?
Log in or register to leave your comments.
Make sure to register through email for our newsletter and monthly giveaways.
451 comments