Home » Paranormal
Safety Harbor City Hall haunted?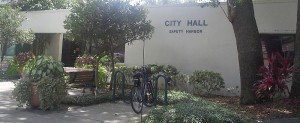 Haunted Safety Harbor City Hall?
Some of the employees of Safety Harbor's City Hall are claiming to see a black hooded figure appear throughout the city's building. Others claim that they heard disembodied voices and footsteps.
Mayor Andy Steingold, has not seen any ghosts according to what he said to the reporter. He also does not oppose having the Sci-Fi channel's Ghost Hunters come in and investigate. This is a quote from the mayor:
""I certainly don't want to be known as a ghost town," he said. "We have a thriving downtown. This (would be) a new dimension for creating commerce in Safety Harbor."
SAFETY HARBOR — Is City Hall haunted?

Could it be a portal to the Other Side?

Some say that when the city manager, finance director and receptionist go home for the evening, ghosts come out.

Heck, they may conduct city business at after-hours meetings for all Mayor Andy Steingold knows.

"When things don't go right in Safety Harbor, we know who's to blame," he said, with a laugh.

In mid December, members of Fenton Productions, a local filmmaking company, successfully photographed several orbs near the green leather chairs where city commissioners sit, but alas, no apparitions showed up to have their portraits made.

Orbs are thought to be collections of energy, not the manifestation of a ghost. They also can be refractions of dust particles.

Fenton Productions is trying to promote its 2006 movie Real Premonition and attract the attention of the popular Sci Fi Channel show Ghost Hunters. It also has filmed at the Safety Harbor Chamber of Commerce building and hopes to film at the library.

If enough activity is found, perhaps there could be ghost tours in the city's future.

That's fine with Steingold, even though he's never seen a ghost other than the cartoon, Casper the Friendly Ghost.

"I certainly don't want to be known as a ghost town," he said. "We have a thriving downtown. This (would be) a new dimension for creating commerce in Safety Harbor."

At City Hall last month, Ray Nelson, a producer with the company, filmed an interview with the city's senior planner, Ron Rinzivillo, about his experiences. Rinzivillo said that for years he used to work well past 10 p.m., staying long after the janitor left.

About a decade ago, he started to notice noises, like people whispering, but he couldn't make out what they were saying. Once when he went to investigate, he discovered someone had left a radio on.

But other times when he heard what sounded like "people talking at a distance," he found no radio. Still other times, he heard footsteps and at least once, a door closed by itself.

"Again, no one was in the building," Rinzivillo said.

But he was totally unprepared for what he encountered one night.

"I saw a black mass, a black hooded figure," he said. "I was making copies at the copier on the west side of the building. I happened to look down the hallway, looked through the window in the door to the east side of the building and I saw a shape. It looked like someone wearing a hood. I could not see through it."

Always a skeptic when it comes to the paranormal, he said he got a very clammy, nervous feeling and "realized what I saw wasn't normal."

He fled and now will not stay more than 15 minutes alone in the building. "It (motivates) me to get out of here sooner," he said.

He said he saw it again earlier this year.

Another city employee said she has seen the black hooded figure, too, but declined to go on the record because she is afraid doing so would jeopardize her career and reputation.

But Rinzivillo, a city employee for 26 years, is retiring in a year and a half and doesn't mind talking about his ghostly run-ins.

Longtime resident Karen Skiff said, "Safety Harbor is a hot spot for spiritual resonance probably because it's been inhabited for 10,000 years."

She said there are American Indian burial grounds all over the area.

"It's not uncommon to dig up bones if you're digging a swimming pool," said Skiff, who is running for the City Commission. "The locals aren't surprised."

Once, in a house she was renting not far from City Hall, she said she came face-to-face with the ghost of an elderly woman.

She said the spirit appeared startled, then headed toward a wall and vanished.

Some speculate City Hall may be a paranormal hot spot because it is located across the street from a building that once housed the Biscoe Funeral Home. "That was the morgue," Skiff said.

Rinzivillo said as nice as Safety Harbor is, he can't imagine why spirits would cross Main Street from one building to the other.

"When I die," he said, "I don't want to spend eternity wandering the halls of City Hall."
Full source: TampaBay.com
The following two tabs change content below.
Based in Brooklyn, NY, I write about all things creepy and strange. My book based on the real haunting of Doris Bither (The Entity 1982 movie) will be released soon. Got a question? Drop me a line.
Latest posts by Xavier Ortega (see all)