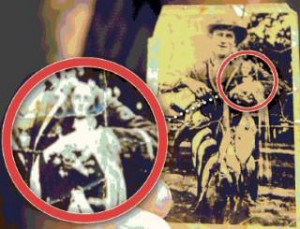 A miniature saint? or just plain old light and shadow play?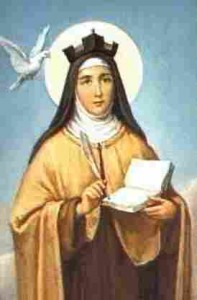 Teresa of Ávila. Patronage: bodily ills; headaches; lacemakers; laceworkers; loss of parents; people in need of grace; people in religious orders; people ridiculed for their piety; sick people; sickness
A classic case of pareidolia. A 100 year old family photograph with a face of a ghost. It's not unheard of, especially with the fact that most cameras back then did not do a good job at capturing the blending between the high contrasts of lights and shadows. What strikes me as amusing is the size of the supposed "face". If a ghost was to pose for a photograph, why in a miniature size?
IT'S a story likely to confirm whether you're a true believer or a true sceptic.

Twins Phil and Mick Cahalane, 45, possess a family photo with an intriguing story.

According to the brothers, the photo was taken more than 100 years ago in Scotland and shows their great-grandfather with the image of a "saintly" figure.

The pair first saw the photo as children, when their mother produced it at a family gathering.

"What I heard was that he had gone on a boat trip out in the ocean somewhere and a really bad storm came through as he was fishing," Phil, who lives in Quakers Hill, said.

"He started praying because he thought he was going to die. The storm passed and because he thought it was safe, he kept fishing, and that's when he caught most of his fish.

"When he got to land he took a photo with all the fish he caught and this image showed up in the photo."

The boys were told the figure was St Teresa of Avila .




Phil Cahalane with the family photo which apparently shows an image of St Teresa with his great-grandfather.


Mick, who lives in Colyton, said his mother used to carry it around with her up until her death last year.

After that, his father carried it in his wallet until he died six months later.

At that point the family discovered it in their father's possessions.

"I'm not a real big believer but this shows people that maybe something is out there, and that gives people hope," Mick said.

The brothers' inquiries into the photo's origins proved futile.

"No one really talked about it (when we were younger). It was no big deal," Phil said.

"Over 45 years I think I only saw it twice. Now no one really knows the story and everyone in the family who did has died."

He said no one even knew his great-grandfather's name because it changed when he migrated to Australia.

Phil said he would sell the photo if anyone wanted it.

"We're not out to fool anyone," he said.

"Mum was a very honest woman; it was a very personal thing for her," Phil said.

"I don't care what anyone thinks. I'm not out to waste anyone's time and neither is Mick.

"I just think if someone wants to pay for it, why not? You only live once. Why not enjoy it?"
Full source: Where I live