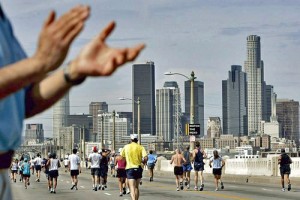 6th Street Bridge, Los Angeles.
Some of you may know this, most probably don't know. Or even care to know. I'm a runner. I've been running now for almost a year and love every agonizing footfall of it.
I'm not a hardcore athlete I just run for fun. I started off doing good and ended up pushing it too hard. I got injured a few months back (hairline crack on my shins, I think) and was out of it for about 3 months. I'm slowly building up my miles again and hope to be able to qualify for the Los Angeles Marathon. Why do I love running? What's the point of it if you just end up back to where you started from anyways?
My schedule usually consists of me getting up at 4:30 am. I make myself a cup of green tea and have a piece of cinnamon raisin bread with it. I read my RSS feeds and lurk around the web for paranormal stories so that I can update GhostTheory for the day. Around 6:00 am I start stretching and putting on my running attire. Nike Dryfit shorts, Dryfit shirt a windbreaker and my running shoes. By the time I get off the elevator, my stomach is turning with the thought of the 3-4 mile run that I must face in the cold.
The streets in Downtown Los Angeles are still asleep. The proverbial L.A. sewer rat is the only other crazy thing running these streets.
I set my distance on my Nike+ iPod. 4 Miles. I'm off.
My mind is usually focused on my breathing at first and then on the growing amount of traffic as the minutes go by. It's still dark when I run through these crack-head filled streets. That don't scare me. I do however feel some fear of getting caught up with some ghosts or Zombies. Sounds stupid I know, but when I run past the barely lit warehouse district I can't help but look into the dust covered windows of these warehouses and feel like being watched. Or being followed.
Currently I'm trying to qualify for the Los Angeles Marathon. A marathon that has been around since 1986 and has had 3 deaths so far.
Detective. Raul Reyna, 53 years of age, suffered a heart attack at mile 24 near Olympic Boulevard and Westmoreland Avenue.
Los Angeles County Sheriff's Deputy James Leone, 60 years of age, collapsed at mile 3, near Exposition Boulevard and Figueroa Street. Witnesses described his death: "His face was covered with blood and his eyes were open, but we never really got a pulse,".
Altadena resident William McKinney, 59 years of age, suffered a heart attach at the 21-mile marker near Crenshaw and Pico boulevards.
So now I start thinking, do the ghosts of these runners still run the Los Angeles Marathon course?
Gary P, a reader of GhostTheory made this comment earlier today on different topic: "...similar to when houses are being reworked and the ghosts get stirred up, but by an accident. They can almost write off the energy people are investing in a reconstruction project and almost shift it into structural energy as to why they get provoked…."
So this got me thinking about these athletes that never crossed the finish line.
We all know the stories in which ghosts are found to be wondering around, of people not knowing that they had died, still continuing to live the moments before their death or continue their life as if nothing happened. What if the spirits of these men never really realized that they died. What if each year when the thousands of people that become part of the marathon create some subconscious or psychokinetic energy, stir up the spirits of these men? or like Gary P. said, what if the energy of all these runners is shifted and feed the energy of the ones that did not make it?
Could the ghosts of those 3 men that died trying to run 26.2 miles still be out there in the streets of Los Angeles running? Residual hauntings are just that. No real intelligence in the haunting but what many researcher claim to be photographic memory or energy that is projected of random events that have occurred.
This happens with tragic deaths, when some person's life is unexpectedly cut short. When there is a lot of pent-up energy in a given moment and recorded or absorbed by the environment. (or so the theory goes)
It would be interesting to investigate if there are some EVPs or other evidence in the ancient ruins of Olympia in Greece, or from the Roman Coliseum the the Marathon route of Los Angeles of the spectral athletes that could not let go to this world or that never really got a chance to cross that finish line.
Much like the theory of residual haunting, this can also apply to that. Some athlete who is expelling all his energy and focusing all this mental and physical powers into crossing the finish line is suddenly dead and now his spiritual energy or Aura is still in racing mode. Still trying to complete the 26.2 miles as if nothing had happened to them. So suddenly I don't feel like that lonely person running the streets in the wee hours of the morning. Besides the rats, I somehow feel comforted that I have other companions running the cold and dark streets every morning. So every year when the crowds gather up and cheer on the modern day runners of the L.A. Marathon, these ghosts relive that moment again. Ghosts that run amongst us.
I'm off, I have 5 miles ahead of me today and I don't feel alone anymore……
9 comments