Costa Rica. My summer destination. I'm planning on taking a trip to the central american country with my brothers. No reason really why I chose this place. I think the water temperature is what attracted me the most. I hate the cold, and I loathe cold water. So some sun and tropical weather and nights of debauchery is what I'm looking forward to. Not that I gamble or do heavy drinking, but I could use some unwinding. Looking up information on things to do in Costa Rica on Google yielded some interesting urban legends about the place and some supposed haunted locations that are widely known and talked about.
Such place is what one would imagine down there. In the hot and humid climate of Costa Rica, there is an old abandoned sanatorium that once was used for Tuberculosis patients. While planning on things that we can do when down there, I ran into a volcano excursion that sounded like fun. More interesting is what lies a few miles before you get to the volcano.
Near the Irazu Volcano in Cartago stands the old sanatorium. Known throughout Costa Rica as one of the most haunted places places in the country. Much like the widely publicized Waverly Hills Sanatorium in Louisville, Kentucky. This old hospital holds the same type of legend. Ghosts of it's previous patients. More disturbing is the story of the children hand prints.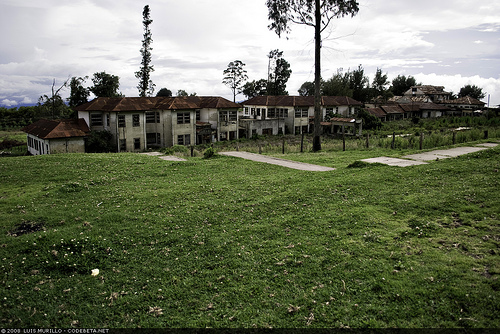 Photo by Luis Murilla
It's reported that in a few of the hallways of this place, the walls are decorated with the hand prints of children. In what many say is a blood red color, they report that the prints "bleed" every once and awhile. No one is really sure how these prints got on the hallways and why they remain there. My guess would be either local kids or the art work of the children who were once patients there. Regardless, this to me sounds much like the "hand print scene" in The Blair Witch Project and with that in mind, fuck the dumb shit. I am not doing any investigations. The last thing I want to happen to us while we are down there is us having to film ourselves crying in front of a camera and apologizing to our Mom, girlfriends and dog for getting killed, while snot hits the lens.
Then there is the reports of the "old nun" that roams the abandoned building. Visitors to the place have seen the ghost at times walking the hallways or caught her walking by the shutter-less windows. There was an article written by a journalist from the University of Costa Rica who interviewed several people who had seen this nun wandering the place. Some of who have seen here multiple times.
Like I mentioned several times here on GhostTheory, we don't do ghost investigations, we like to report on cases or do interviews. So I think when I'm down there I will try to get some stories from the locals or the security guards that work at night in the premises.
There are other legends that are known by many. Like every local knows of Playa Grande on the Nicoya Peninsula. It said to harbor ghosts that chase away night visitors. The place is said to have been an old burial ground. Many say that camping there is almost not recommended since people are known to be chased away. Again, something I won't be doing. I'll ask though… 🙂
I'll be going around late April, so expect more updates from these places then!