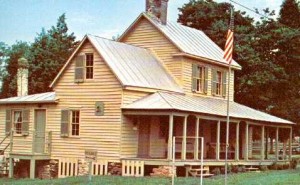 Remember the post on the haunted Dumfries Museum that we did awhile back?
Well the results of the investigation are in.
You can hear the EVPs at the investigator's website:
http://siofva.googlepages.com/
I personally do not consider EVPs reliable evidence, but some of the EVPs that were captured are pretty clear.
The capacity crowd that packed the Dumfries Town Council Chambers Saturday night was eerily quiet as all strained to listen and learn about the ghosts of the Weems-Botts Museum.

Children didn't fidget, side conversations were nonexistent and cell phones didn't ring.

The only sounds made by the crowd were "oohs" and "aahs" and exclamations of "I heard it" after listening to sound recordings made by Supernatural Investigators of Virginia, including one that seemed to whisper from the netherworld: "Get out of my house!"

The ghost hunters, based in Harrisonburg, spent a night last fall in the museum in the hopes of picking up evidence of the paranormal. They returned to Dumfries Saturday to explain their findings and conduct a second investigation.

To believers, the Weems-Botts Musuem is thought to be haunted by the Merchant family, who owned the house for almost a century.

In 1869, Richard and Annie Merchant bought the house and lived there with their daughters, Violet and Mamie.

Mamie suffered from epileptic seizures and was kept in an upstairs room until she died in 1906 at the age of 23. Her father died the same year.

Annie asked her daughter Violet, who had moved away and fallen in love, to return home to take care of her. Violet did so until Annie died in 1952 at the age of 98. Violet spent the rest of her life in the house until she died in 1968.

When Candace Conger of Manassas learned about the ghostly lecture, she said she "jumped at the chance to go. I've had some strange experiences [with the paranormal] when I lived in Fredericksburg."

"She was all excited about it. I had to pick her up early," said Jim Ross of Manassas. They arrived an hour before the presentation was scheduled to begin.

That likely was a good plan since people had to be turned away long before the lecture began.

"Car after car after car kept turning into the parking lot," said Emma Young, administrative assistant for Historic Dumfries Virginia Inc., which runs the museum and sponsored the event. "We had to tell people that although we were full, they could come back for the second lecture."

And they did, again filling the council chambers long before the second lecture began. Even a birthday party of little boys piled out of an SUV and scurried inside, eager to listen to the ghost hunters.
"Did they find any evidence of paranormal activity? That's for you to decide tonight," Young said as she introduced the seven members of Supernatural Investigators.

The investigators, most of whom have day jobs at Walmart, have been together for three years. "We decided to come here because the history of the area and the history of the house intrigued us," said Rhonda Steele, one of the ghost hunters.

Steele said her group believes the museum is haunted and showed the gathering some of their evidence. This included a photograph taken outside the museum of a blue mist that seems to encircle the base of a tree.

"To us it looks like a woman next to the tree in a long dress," she said.

Other photos show, according to Steele, a dark shadow or mist that seems to flow down the stairs from Violet Merchant's room.

"We had some activity in Violet's room earlier. It felt different there. [The shadow] kind of followed us down the stairs. It's transparent. It got closer and closer, then it started going back up again," Steele said.

The ghost hunters then explained their investigative tools, which range from digital recorders to capture Electronic Voice Phenomena or EVPS to electromagnetic measuring devices, meters and digital camcorders and cameras.

"When you get a reading, you don't just say, 'I've got a ghost here.' You try to debunk it by seeing if it could be manmade or environmental," said Gary Puffenbarger. "If you can't debunk it with that, then you start looking at the paranormal."

Of all the photos and 18 EVPs that the investigators captured, ghost hunter Lana Fuller said that they were able to debunk only one thing.

The most compelling piece of evidence to Fuller was the "Get out of my house" EVP.

"That was really clear," she said.

Other EVPs included "Can you hear me? I'm not dead." "Get out" and a child's voice.

"You can't make out what is being said, but it's a child's voice and there were no kids in the house with us," Fuller said.

After listening and seeing the evidence, did the crowd believe the museum is haunted?

Conger was among those who remained open-minded. "I think it's possible," she said.

In recent years, Historic Dumfries has offered Ghostly Lock-in during October as an opportunity for people to spend the night in the museum and possibly experience the paranormal. With the recent increased interest in what has been dubbed "the most haunted house in Dumfries," special lock-in evenings will be offered over the next few months.

For more information and to make a reservation, call Historic Dumfries at 703-221-2218.

For more information about the Supernatural Investigators, visit its Web site at:

http://siofva.googlepages.com/
Full source: Inside Nova