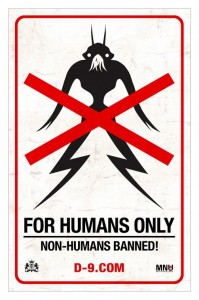 Why haven't I heard of this before?
The movie is due to be released this August and by the looks of it, it looks very promising!
Here is a short plot summary of the film according to IMDB:
Release Date: 14 August 2009

An extraterrestrial race forced to live in slum-like conditions on Earth suddenly find a kindred spirit in a government agent that is exposed to their biotechnology
After watching the trailer, I was really excited about it and thought I'd share it with you guys. Reminds me of the "Alien Nation" movie in some ways.
Glad to hear that Peter Jackson is behind this movie.
Let me know what you think!
The following two tabs change content below.
I'm a writer, a runner, and a hell of a coffee drinker residing in Los Angeles. I'm currently working on a book about Doris Bither and her terrifying account of a haunting in Culver City, California. The case was dubbed "The Entity" and it stands to be one of the most controversial cases ever to be studied by parapsychologists.
Latest posts by Xavier Ortega (see all)