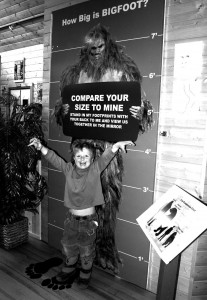 Telluridenews.com reports on a new 'Bigfoot museum' that just opened up for the public. The goal of the museum is to educate the public on the elusive creature and shine a positive light on the mystery.
An alleged cluster of Bigfoot sightings in the Silverton area in recent years is the inspiration behind the newest museum to open on Blair Street.

Bigfoot Central, with its Legend of Bigfoot Museum and Gallery, opened Friday, May 1. It's the brainchild of Rick and Gayle Lewis of Kanab, Utah.

Rick Lewis claims there have been eight "confirmed" Sasquatch sightings within a 10-mile radius of Silverton over the last 10 years, making the San Juan Mountains perhaps the most significant Bigfoot habitat outside the Pacific Northwest.

The most recent sighting, he said, was near Durango Mountain Resort in February.

The Standard was not able to confirm that report.

Lewis also claims that Bigfoot sightings in the area go back a long way, and that a miner in the San Juan Mountains in the 1840s reported an early encounter with a Bigfoot.

Lewis says his museum is an educational experience to introduce people to the huge creatures, where they live, what they eat.

Gayle Lewis says a Bigfoot can grow to be 7 to 10 feet tall and weigh up to 700 pounds.

"Some are more black, some are more brown and of course the Yeti is white," she said.

The museum's mission is to improve understanding of Bigfoot, and to bring attention to what they claim is an often overlooked part of Silverton's real history.

Rick Lewis complained that the media has been unfair to Bigfoot, even going so far as to blame the beasts for various unexplained pregnancies from time to time.

"We're hoping to bring something different to Silverton," Lewis said. "We live in a world of everyday science explaining everything. It's nice to think there are still mysterious things to believe in. That's what Bigfoot Central is all about."

Gayle Lewis said she hopes the museum will spur more scholarly inquiry into the elusive creature.

"We're hoping to have a symposium with Sasquatch researchers," she said.

In the meantime, Bigfoot Central is the place to go for all your Bigfoot accessories — T-shirts, pens, mugs, books, videos and of course the Bigfoot FM Radio.

The museum has both visual and interactive displays telling all about Bigfoot. It will also exhibit Bigfoot "art" selected from nationally known artists, providing visitors with a fun-filled learning experience and family entertainment.

The Lewises said they expect more Bigfoot sightings in the area. They said Bigfoot is likely to be spotted from time to time along the Animas River from the Durango & Silverton Narrow Gauge Railroad trains.
Full source: Telluridenews