Trailcam Bigfoot photo – Sanger Paranormal Society
We recently posted about a Northern California team that say they have captured a photo of a possible Bigfoot in the area. The picture is above.
Last night, I received an email from Jeffrey Gonzalez, Founder of the Sanger Paranormal Society. In it, he states that the area has been visited by members of his team for some years now and that Bigfoot prints have been found there as well.
Here is a snippet of the email:
…We went through the cameras really quick. We did get 2 types of black bear and deer.
It wasn't until 3 days later when David was going through the photo's again is when he saw the object. We are going back to the same spot tomorrow, July 1 to take photo's and video of that certain spot.
I am going to stand at the exact same spot and have a photo taken of me for a reference. We are also going to figure out how tall this thing was. If you look at the photo closely, I know it gets fuzzy when enlarged, you can see the arms go down to the knee's. I have done research on standing bears but their arms don't hang down that far. Also, take a good look at the face, it does not have a snout.
You can actually see the chin and nose. I know you probably think I am smoking something but were not. David Raygoza has been visiting this site for 6 years. He has a lot of foot prints but not the shot until now. When we get back, give us a couple of days to put our findings on the web site. We did leave 6 cameras up there again and that one camera is in the same spot. I don't think I will be able to sleep tonight……….pretty exciting stuff..
Here is the original photo that was taken from the Trailcam: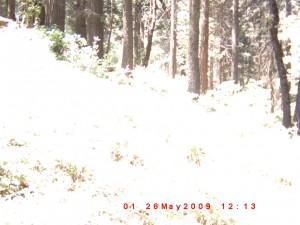 If you check out the top left had corner, there seems to be a rather large brown silhouette. That is what the team says could be a possible Bigfoot.
I can't wait for the comparison pictures they will do today. It seems like it could be a brown bear or just an old tree trunk. The new expedition will help shine some new light in this case.
I'll keep you guys updated.
6 comments