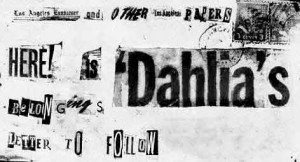 Letter sent by the Black Dahlia's murderer
I guess I should start by saying that the paranormal is not my only interest in which I submerge myself in. I have a few other hobbies or interests that take up my time in this world. Photography is one of them. I love
taking pictures
. Digital, disposable cameras or a
120 format Holga
, it doesn't matter.
I always try to travel with a camera on me. I like the idea of capturing unexpected moments. Especially when people are in their pure element, not posing for the shot.
I also love to run. Something that I was never fond of back in high school, but learned to appreciate as I've gotten older. Running in downtown L.A. has it's problems. You either have to get up at 4am to beat the early morning rush hour traffic, or go for a run after 10pm and deal with muggers. Until I get a black belt, I'll stick to the 4am option.
Other than the traffic and muggers, running in downtown offers a plethora of stimulating visuals. From the bright lights of the Nokia theater and Staples center, to the architectural brilliance of the old hotels in the area. One of those hotels is the Biltmore Hotel. A really beautiful and grandiose hotel right in the heart of downtown. I've been inside that hotel several times. It's where I'm supposed to get married at. Given that I don't screw anything up….*crosses fingers*
My running route passes a few blocks from the Biltmore and through the Nokia/Staples compound. It takes me around the USC campus and through Leimert park. Why am I telling you guys all this? There's a connection to it all. Trust me. I'm not just rambling here.
Getting back to my hobbies and interests; besides the paranormal, photography and running I like reading and profiling serial killers and/or infamous murders. I'm not a freak, I swear.
The connection here is the Biltmore Hotel and Leimert Park. These are the last places where people saw the Black Dahlia. Alive and dead.
I'm sure most of you have heard of Elizabeth Short's story. She was an aspiring actress, turned prostitute who came to L.A. seeking fame. She ended up becoming famous, but for the most macabre reasons. From Wikipedia:
"The body of Elizabeth Short was found on January 15, 1947, in a vacant lot in Leimert Park, Los Angeles, severely mutilated, cut in half, and drained of blood. Her face was slashed from the corners of her mouth toward her ears, and she was posed with her hands over her head and her elbows bent at right angles.[1] The autopsy indicated she was 5′ 5″ and 115 pounds, with badly decayed teeth, light blue eyes and brown hair.[2]

Short was buried at the Mountain View Cemetery in Oakland, California. After her other sisters had grown and married, her mother moved to Oakland to be near her daughter's grave. Her mother finally returned to the East in the 1970s, and lived into her '90s.[1]"
The Black Dahlia's body was found in Leimert Park:

View Los Angeles, CA in a larger map
It's reported that her ghost is seen in the elevators of the Biltmore Hotel. Riding with passengers with no interaction whatsoever. Now, to me these are all urban legends. I don't really think that she haunts the hotel like it's rumored, but then again who knows. I'm a person who believes in ghosts/spirits but at the same time believe that most stories are either made up or misidentified natural phenomenon.
Does the ghost of Elizabeth Short haunt the hotel?
The gruesome death of Elizabeth Short is a grim reminder that the "City of Angels" has a dark side. I'm reminded of the dark history and dangers every time I hit the pavement.
9 comments