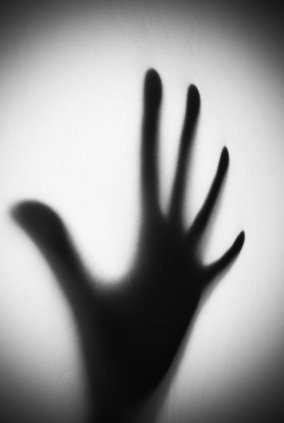 When I started investigating the story of Doris Bither I wasn't sure what to expect. Stories of spectral rape are rare and almost non-existent. I was not sure if what I was reading was possible or had ever happened. I've read of old cases where spectral rape was reported, but it was from a third party source which have a tendency to lose a lot through communication.
As unfortunate as it is, rape crimes have a high number of people not reporting the crime. It has been said that rape is not really about sex as it is about control. Therefore most people do not report this crime due to them feeling helpless, with no control over the situation and are left with the shame.
So as hard as it is to get real statistics about real world rape, imagine how difficult it is to gather accounts of spectral rape?
The Doris Bither case is quite different. There were scientists and reporters present during some poltergeist phenomenon. Mrs. Bither's children were witnesses to her physical attacks. This is one of the cases that was heavily documented and witnessed all throughout.
A story from David S. was submitted to us a few days ago. In it, he talks about his ordeal with an ghostly attack. How he fell victim to this and how he battled with unseen forces.
David S.
July 5, 2009 at 9:05 am

I'm sure many of you won't believe my story but I will tell you anyway because I totally believe this woman and her children went through what they claim they did.

I had a very unhappy childhood and experienced some mild supernatural things in our house. Our house was a battleground – no violence, as in people getting beaten up, but there were monumental screaming matches and there were also instances of incest. It was pretty bad. My brother and I, and some friends, saw weird lights on the wall for a while…and there was something not right…but it was never anything more than that.

Anyway, I also had a genuine spiritual experience around this time. I won't go into it but suffice to say I can remember it vividly and will go to my grave knowing what I experienced was real. It was a beautiful and profound experience and it just happened to a kid for no reason. From this experience, I believe the rest came.

Fast forward to when I am in my early twenties. I had a mild, settled depression and turned to spiritual things to help myself – I sensed even then that my problems would not be solved by medication and psychologists, so I didn't even bother about pursuing that path. I turned to meditation and a course of spiritual practice. I didn't just do it for a couple of hours a day however, I did it as if my life depended on it – sitting still for upwards of 10 hours a day in intense concentration – only stopping to pee and eat something small. It was working, and things were happening inside myself..I felt peace and a very deep connection.

This went on for three months. Then oneday I just stopped because I had the most horrible sense of foreboding. I knew something was going to happen. A month or so later, I had, what I now know ( thanks to the internet ) was a kundalini awakening.
Spiritual masters of various persuasions always say you should never force things..you should proceed cautiously and with common sense….everything I did not. You can look up kundalini awakening on the net. Many people experience various things when it happens. I won't go into the things that happened to me, but I basically spent about 7 years in a small flat feeling spaced out, at times like I was dead; I was totally disconnected from the world and every night some new bizzare experience would occur – energy, dreams, shaking, ecstacy, and more.

I know this sounds like a total load of crap but it really is all true. I forced something spiritual to happen and it happened. Unfortunately for me though – and for many others who have experienced kundalini awakenings – I didn't have the support, the understanding, the spiritual maturity or preparation to deal with what was happening. I didn't even know it was kundalini. When I eventually got better and got a sense of connection to the world again, and moved on and got a job and built a life again, I tried to forget it all. It was horrible – I knew it was a spiritual experience and I knew it had gone wrong and led me into a hole, but I just wanted my old life back again and didn't want anything to do with spiritual stuff again.

Oneday, maybe 7 years ago, I found a site devoted to kundalini awakenings that listed a set of symptoms and had letters from people who had gone through, or were going through, an experience. It was a revelation. Everything on that site was my story too – all the strange physical symptoms, the physical pain, the heat and shaking, the dreams, the lights, leaving the body at night, everything. I should also say that I have never had any serious mental illness ( I know depression is a mental illnes but I mean serious, schiozophrenia-type issues). All through that period I was totally fine. Still had friends visit me and ask why I wasn't doing anything with my life…still was totally normal in their view….they just thought I had dropped out and become a bum for no apparent reason. I just want that to be clear before I get to the main point that is relevant for this forum. I had the strangest things happen to me but never became 'unclear' mentally.

One of the sypmtoms of a kundalini awakening is possession states. From what I can gather it is uncommon. All the stories I have read online and in books on this topic have never spoken about what happened to me in that little apartment. Into my sixth year in that apartment, things started happening. First I would wake up after one of my bizzare dreams, and the lights would be on and the taps running. Then things started to disappear and reappear again. Cupboards full of plates and cups would be totally rearranged in the morning. I knew at the time it was likely that I had some kind of ghost harrassing me, but it was too horrific to acknowledge. I tried to ignore my way out of it. You see, I had been through a lot by that stage, the thought that I was now dealing with a ghost in my apartment was just too much – I just shut down and didn't care anymore.

My best friend came over oneday, who I hadn't seen for a year, and said ' what the fuck is that smell'. I didn't know what he was talking about, but when I went to stand where he was standing, in the living room, there was the most vile, nasty, unidentifiable smell you could imagine. We tried to work out where it was coming from but there was no source. It was also not like any smell I have ever experienced before. It came and went for a few days, along with unexplainable freezing cold areas in the apartment – it was like walking through a freezer.

Then things got weirder. I went in the kitchen and a coin was thrown at me. I went back in my living room and sat down just overwhelmed at the shit that was happening, and then the door closed slowly right in front of me. No windows were open, there was no breeze, and it just closed like someone pushed it closed.
The next morning I was shaving in my bathroom mirror, and as I looked up after washing out the razor under the tap, I saw a flash of a man's face standing behind me. Of course, I ignored that too.

Then, I started to get pushed. Like just walking to the kitchen to make a coffee for example, and I felt propelled forward like someone had given me a short sharp palm push. I started to wake up one night because I felt something touching me around my throat…and it was my own hand. I didn't move it. It sounds like total crap I know, but it's totally true. My own hand was wrapped around my throat and mildly choking me. Then, over the course of a few nights, I would be falling asleep and then suddenly my own hand would fling back and hit me in the face. It did it by itself – totally unconsciously. I know you are all probably rolling around laughing your arses off about this, but it happened. It was too weird to process at the time and it was only when I found out about the kundalini stuff online that I've thought in detail about all the things that went on during that period. This happened ( the self punching, maybe 6 or 7 times in total ) and the self choking, thankfully just the once. But then I felt dull thuds hit me in the face, like someone had punched me in the face. It happened maybe 15 times over the course of two weeks.

By this stage,I didn't want to stay home. I slept at my mother's place for a few nights, and then at a friends, I wasn't consciously thinking ' there's a ghost in my apartment' but I just felt sick to the stomach being there. I knew something was happening like a horror movie, but I couldn't admit it to myself, or deal with it.
So after a week I go home again. The first night back I wake up and can;'t move, and I feel the sheet on my bed being pulled down slowly….I can't remember anything after that except that I wake up again and all the lights are on, my underpants have been pulled down around my knees. The sheet is off the bed and I'm laying there exposed. I KNOW I didn't do that. The next night again, I feel something touching my dick..it's warm and feels like energy..not like human skin…but there is warm energy and it's moving around my penis. When I notice it and feel the terror rise in my heart, it stops. So I tell myself it was nothing…just my imagination. I know I have some kind of ghost in the apartment but I can't begin to think that it was doing that.

THe next morning I wake up and sit on my sofa with a coffee and notice something on the wall next to my bed – when I go over to look I feel the most frightened so far..I think this is when everything really hit home….it said ' fuck you', and it was written in something red….some red matter. I decided at this point that I was going to move out. I had no money, no way of getting anything decent in the situation I was in, but I decided I was out of there as soon as possible. I felt totally sick and my stomach was knotted. I simply couldn't believe what had happened. I kept thinking, this is not real, it 's like a movie. It's just not real. I am not someone who believed in this kind of dramatic haunting stuff – even though I was very familiar with spiritual experiences by that stage, I didn't think that haunting or ghosts was real – to this extent at least. It was really like a movie.

So over the next few days I heard a voice laughing in the apartment, I felt hot breath in my ear when I was falling asleep, I heard a man's voice say my name. I had given notice on the apartment and was trying to work out with my mother when I could move in with her. Finally, the last thing happened.

I was in sleeping, and I felt myself upended and turned around. When I say I was sleeping, I mean I was in a dream state…the usual bizzare dream state that had ocurred on and off for for 6 years…strange lights, different colours, the sense of being asleep yet still conscious, the strange images, the bright white lights flashing into my eyes – all this is kundalini related stuff and happens to many people who go through this stuff – but this time something from outside of me flipped me over. As it was happening I was conscious of it happening and I knew it wasn't me doing it. Then I felt a sharp pain in my arse. It felt like something was going in and out of my arse. I was also in the grip of something that had a lot of power and held me…I simply couldn't move. I felt the weight of something on me and it was pushing against me and screwing me.

I can't remember how it ended, but I opened my eyes and could move my body again. I felt my underpants but they were still on me – they weren't pulled down.
I was totally traumatised because I know what I felt. I didn't doubt myself because my underpants were still on me. I know I was raped. I knew it then and I know it now. I will never forget that. It was as real as if some guy walked in here and raped me right now. It never happened again and I never had another thing happen in that place. A couple of days later I had this sense that it was all over, it was gone, and everything was ok again.

I will tell you something though, I feel a real anger at that fucking thing and would love to meet up with it again. You may think that is pretty stupid, but I feel as if some random guy I never met just turned on me and raped me one night. If that happened you'd want to take your aggression out on him, you'd want to stand up for yourself right,…well that's how I feel about the thing that raped me. I feel strong now, I'm not weak and downtrodden like i was back then, I;m not thinking about killing myself, I'm not disconnected from the world, and I don't feel like I'm an easy target now. I just feel very angry that whatever it was did that to me.

You see, I know what happened to me was real, and I know nobody will ever believe me. I wouldn't believe it if someone told me either. But how do you explain something that just happened…even when it is totally unbelievable. I wasn't dreaming it, it wasn't something that occurred as the result of negativity or some projection or mental issues on my part, it was something from outside me that took advantage of the fact that I was weak and totally disconnected from the world.
I was able to experience a lot of stuff that I wasn't ready for because I had pushed too hard and forced a spiritual event before I was ready to handle it. It opened up lots of bizzare experiences and it made me suseptible to being messed with. Not all spiritual things are love and light…go read a kundalini community and you'll see what I mean….the stuff is real and there are consequences if you push things too hard.

I truly believe I made myself vulnerable. I believe this woman who was raped, and I believe her son. When we die we don't all go to heaven. There are different realms just like there are in this world. You believe a murderer is going to heaven when he or she dies…they are still in the stream of their own making and it will go on even though they no longer have a body. I know this much from my experiences. I wasn't enlightened and I didn't get anything valuable out of my spiritual experiences….I was not ready and had no guidance. (Some people end up calmer, more centred, a lot more loving and traquill from their kundalini experiences, but many others, who play with things rather than it happening of itself, make lots of trouble for themselves and go through years of difficulties before finding their way back to normality again – with not much to show for it). So I have nothing in the way of spiritual tresures but I know what i experienced through those years and I know that death is really not a big deal. You lose the body but you are still there in some form.
I was out of my body so many times that it was not a big deal.

There are entities that are just plain nasty. I believe that so powerfully. The woman was raped just like she said she was. She was vulnerable and for some reason they could get to her. I know I was also raped, and I am the kind of person who has no time for 'mysteries'. My interest in spirituality was entirely practical from the beginning..I just wanted to be free of the sadness that had accumulated from my childhood abuse. Just like a living abuser can choose a victim who they can smell is damaged already, I believe an entity can do the same.

If this stuff had never happened to me there is no way in the world I would believe it of someone else. But it happened to me as clear as day. I'm sure there are lots of stories like mine in this world that never see the light of day. I'm sure drug addicts, kids who have been abused seriously for years, people with chronic mental illness, experience things that they just ignore. In the scheme of their lives, they just let it wash over them. Anyway, sorry for the book like post. I've never written about this before, but I was thinking about what happened a couple of hours ago and did a net search on entites and found this site. I was aware of that movie before this stuff happened to me – i think I saw it when I was a teenager. I used to think, when watching stuff like the amityville horror ' god, imagine if this shit really happened'….and I never imagined it would happen to me.

Anyway, good night.
17 comments