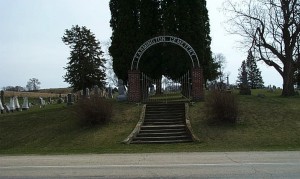 Bettylou Macie felt strong emotions while driving past a cemetery with her husband, so strong that it drove her to investigate the deaths of the people in the cemetery. One particular filling was that of a woman being murdered at the cemetery, upon questioning city officials, she learned that there was in fact a murder there.
Bettylou is a member of the Central Maine Paranormal Investigators, they will be conducting an investigation in about a month or so.

FARMINGTON — When Bettylou Macie and her husband were driving through Farmington a few months ago, she said she developed strong feelings of "other people and how they died."

She was picking up their energies, and getting a lot of them, so she told her husband to hurry up, drive fast and get past the Fairview and Riverside cemeteries on Route 2. The large cemeteries are across the road from each other.

Macie, a member of Central Maine Paranormal Investigators, wanted the group to do an investigation. They were interested, but not moving on it, so she took it upon herself to call Town Manager Richard Davis and scheduled a paranormal investigation of the cemeteries for Aug. 22.

She said she is not sure who or where in the cemetery they are buried but she sensed a person who died from a drowning, another who had a brain tumor, one with muscular dystrophy and a person who was burned very badly, she said.

One that really stuck out was the sense of someone who was murdered there.

It was during her second call to Davis when he mentioned a murder took place in the cemetery. She sensed the murder while driving by but didn't believe it until Davis verified it, she said.

"I was so shocked I couldn't speak," she said. "He asked if I was still there (on the phone)."

Although Macie lives in Livermore Falls, she said she rarely comes to Farmington and she didn't know about any town history, or any murder in either cemetery.

The way an investigation works is that another member of the group researches the cemetery but doesn't divulge what they learn. Then, when Macie and other psychics in the group pick up on something, it validates the information, she said.

An investigation involves taking recorders and cameras, including an infrared camera, into the cemetery, said Stacie Farrington, Paranormal Investigator's group director from Lewiston. Sounds not heard at the time — electric voice phenomena — are sometimes heard when played back, she said. Cameras record paranormal energy with some looking like orbs or light rods and sometimes a full or even partial body apparition. The mediums also often communicate and ask questions of the ghosts, and sometimes receive answers.

"Not every cemetery is haunted. If a ghost is hanging around, there has to be a reason. Usually it's unfinished business that keeps them from crossing over," Farrington said.

Sometimes in dramatic deaths, the ghost doesn't understand their death, sometimes loved ones keep them from crossing, she said. "It's like fishing. Sometimes you get something, sometimes you don't."

The group formed in 2006 after Farrington and another member attended a ghost hunting class held by Lewiston Adult Education. Farrington wanted to continue paranormal research and formed the group.

Now the 11 members perform investigations of cemeteries and houses and hold full-moon cemetery tours for those interested in the paranormal. More information is available on their Web site, www.maineghostseekers.com.

As for Macie, she denied her psychic sense for most of her life, casting it off as coincidence, she said. She has two siblings who are also psychic; she joined the group after her brother became a member. Group members have helped her tune into her senses and develop it, although other family members are skeptical, she admitted.

Macie says she not only feels the presence of the deceased, but sometimes her spirit-guide gives her their names or she hears their voices talking. They sometimes ask her to pass on a message to loved ones.

"They can give me a headache . . . they just keep repeating the message," she said. It makes her antsy and she feels the need to get out or walk away to break the contact, she said. After making a couple strangers cry, she won't try to pass on messages again, she said.

"Sometimes they (the deceased) just want you to know they are still there or tell you how they died," she said.

The sensations from the Farmington cemeteries were so strong, "it's not just a maybe," she said. She knew the murder was really bad, violent, and picked up on it, she said.

The group regularly investigates cemeteries in Windham and Auburn and have done an investigation for the Wilton Historical Society.

They also look for new places to go, Farrington said.
Full source: Sun Journal