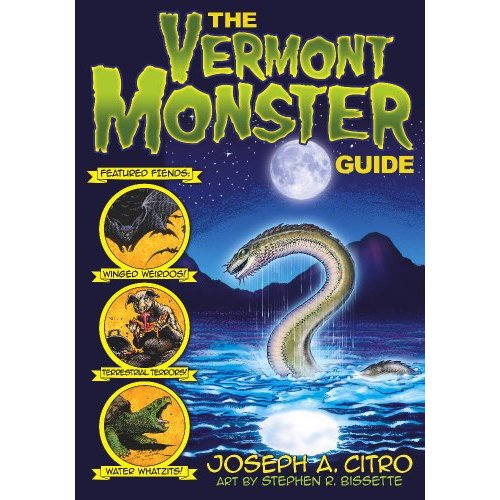 A new book of cryptid monsters is out. The "Vermont Monster Guide" is a compilation of the weird creatures, accounts and stories from Vermont.
"Though not widely acknowledged, the Green Mountain state is home to more winged wonders, wet weirdoes, and crypto creatures than any other state in the country. You probably know about Champ, the elusive monster of Lake Champlain. But what about Northfield's Pigman? And Richford's The Awful? Wherever you are in Vermont—in town or country, river or lake, land or sky—you're never far from the unknown. Or the unexpected."
Seems like a great read. Even if for most of the sightings or reports, I am very skeptical, I like reading these things. For example; there are hundreds of local legends in Los Angeles about haunted houses, ghostly apparitions, lizard people and dog men. Reading about these stories helps me get the creative juices flowing. It's especially fun when you tell your Niece and Nephew a few the stories while walking around the old parts of the city.
The book "Vermont Monster Guide" is out this month. If you like reading monster stories, get yourself a copy. In fact get 2 and give one as a gift. Or if you are really feeling generous….my birthday is October 2. 🙂
By DANIEL BARLOW
Vermont Press Bureau – Published: September 13, 2009

Everyone knows the story of Champ, the mysterious monster allegedly living at the bottom of the big lake that inspired its name.

But what about the bats with human faces sighted outside Rutland? How about the pet-eating Pigman of Northfield? Or the cats with freakishly long legs that roam the dumpsters in Burlington?

Thankfully, there is now a guide to the monsters, creatures and oddities that observers say have been haunting Vermont's woods and lakes for hundreds of years.

"I wouldn't say that Vermont has more monsters than other states," said Joseph Citro, author of "The Vermont Monster Guide," published this month by the University Press of New England. "But we are home to some of my favorite monsters."

Stephen R. Bissette, who drew the outlandish and sometimes grotesque drawings of the monsters in the book, agreed, adding that since Vermont is an "old state," it has collected a unique bunch of monster tales.

"For some people, Vermont still sounds like a fantastic and exotic location," said Bissette, who pointed to a tabloid article from the early 1990s that proclaimed bats with human faces had been found in the Green Mountain National Forest near Rutland.

The unknown is not new territory for Citro and Bissette. Both native Vermonters, the two friends previously collaborated on "The Vermont Ghost Guide," which tracked spooky tales across the state.

Citro, who said his love of these stories came from his father "spinning yarns" while he was growing up in Chester, has made a career out of writing about weird regional legends. Bissette, a retired cartoonist living in Windsor and teaching at the Center for Cartoon Studies in White River Junction, is known for his horror comics, including his 1980s Swamp Thing stories with British writer Alan Moore.

"Steve was the perfect collaborator for this project," Citro said. "His style really brings these creatures to life. He's just really good."

In addition to Bissette's bold black-and-white drawings, each entry in the book gives the monster's name and the location (such as a specific lake or town, or the general "any deep woods") and dates of sightings. Citro also relates the gripping accounts of witnesses or the legends that have been handed down about ancient creatures.

Bissette, 54, said he and Citro were inspired by the pseudo-science and cryptozoology paperback books of their youth – books with titles such as "Things" and "More Things" and "Strange Creatures from Time and Space." Bissette also drew inspiration from a book closer to home: Rutland Herald and Times Argus cartoonist Jeff Danziger's 1980s children's book, "The Champlain Monster."

"Jeff's work was a real inspiration for me," Bissette said of his peer's early career. "Here was a guy who lived here in Vermont and not New York City and was actually making a living off cartooning."

Citro has collected stories of Vermont monsters and ghosts for years, filing them away for later use in books. He said his research consists of old newspaper clippings (the story about the Sidehill Cronchers, a pig-like creature seen in Bridgewater, is culled from a 1966 Rutland Herald report) and stories people have told him over the years.

During a recent book release party in White River Junction, Bissette joked that monster stories are difficult to flesh out because the anecdotes they hear usually amount to, "I saw a monster and then I ran away."

"Sometimes you wonder if a person really just saw a fisher cat, which can be elusive and look frightening to a person who has never seen one," Bissette said.

But their book doesn't overtly pass judgment or try to debunk the monster mysteries. As Citro writes in the introduction, "Some may be real (whatever that means). Some may be the product of imagination reinforced by repetition. And some may exist close by, near enough to breathe down our necks."

A few of the stories came right from the creators' youth. Growing up in Duxbury, Bissette repeatedly heard the local legend that there was a gigantic snapping turtle in the depths of a local pond, just waiting for an unsuspecting swimmer.

"The story was that it would grab you by the leg, pull you under and you were dead," Bissette said.

Citro had his own Vermonster sighting. Back in 2000, he and a friend were on the highway returning from New Hampshire when they saw something big and dark on the road ahead of them. As they got closer, they saw that it appeared to be a big cat.

For centuries, Vermonters have reported seeing mountain lions, black panthers and other exotic large cats roaming the wilderness.

"It was broad daylight, too!" Citro said. "But that was my catamount sighting."

Bissette, who drew several sea creatures, BHMs (big hairy monsters) and other horrors for the book, said he has a hard time picking a favorite.

"I love 'em all," he said. "Drawing these monsters was very easy for me to do."

Citro said he has a lot of affinity for Vermont's best-known monster: Lake Champlain's Champ. The large number of witnesses over the years – including groups who have reported seeing it at the same time – and some scientific tests done at the lake lead Citro to conclude that … something is there.

Does he believe?

"It's not really a question of believing," Citro said. "I think there is an awful lot of evidence that there is a very large unknown animal in the lake."

Both creators praised their third collaborator on the project, a Texas-born cartoonist named Cayetano Garza Jr. who moved to White River Junction several years ago. Garza, a noted Web cartoonist, painted the front and back covers of the book, lending a new look to Bissette's work.

"I present the black-and-white artwork to 'Cat' and he creates something that is truly unique," Bissette said.

Citro and Bissette are already working on a related follow-up book, although they are mum on the details right now. The two joked that they planned to pitch a book called "The Shrunken Heads of Vermont," which would feature — well, the shrunken heads of famous Vermonters.

"We realized that no one but us actually wanted to see the shrunken head of Marselis Parsons," Citro said with a laugh.
Full source: Rutland Herald