Home » Headline, UFOs
Pyramid UFOs Over Russia?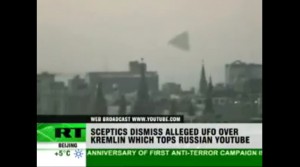 Said to be recorded on the same day as the Norway spiral lights (rocket), this Russian video shows a triangular object spinning above Red Square. Another video shows the object during nighttime.
No major reports have been made by the Russian press. At least none that I could find. The videos are soaring to the 'most popular' ranks on YouTube.
My guess that it's either some computer generated hoax, or some form of marketing ploy.
The following two tabs change content below.
Based in Brooklyn, NY, I write about all things creepy and strange. My book based on the real haunting of Doris Bither (The Entity 1982 movie) will be released soon. Got a question? Drop me a line.
Latest posts by Xavier Ortega (see all)