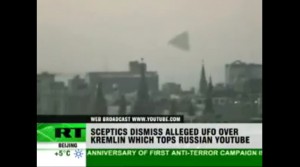 Said to be recorded on the same day as the Norway spiral lights (rocket), this Russian video shows a triangular object spinning above Red Square. Another video shows the object during nighttime.
No major reports have been made by the Russian press. At least none that I could find. The videos are soaring to the 'most popular' ranks on YouTube.
My guess that it's either some computer generated hoax, or some form of marketing ploy.