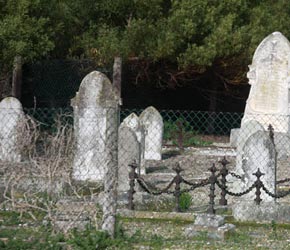 Zombies are a big part in the belief system in a lot of countries. Especially South African countries. I've written before about the Clairvius Narcisse case. One of the most infamous cases of Zombification.
The Dispatch Online has a report on a recent case in where a father tells the reporter the story of his son coming back from the dead. His son was murdered and buried in 2005. A few years later, he had come back home.
His family members were in disbelief at the possibility that their relative was alive, that is until they saw him and recognized him right away. His dad also talked about the scars on his face being evidence that it was indeed her son.
Full source: Dispatch Online
2010/01/07
Dispatch Online

A YOUTH who was believed to have been stabbed to death and buried in 2005 has resurfaced in yet another mysterious return of a man from the dead in the Transkei.

Siviwe Ntwalana, of Mthatha's New Payne Location, turned up at one of the village's homes, where he was given food last Thursday.

"They noticed his resemblance to our family," said his father, Mbongolwana Ntwalana, yesterday.

His elder brother's daughter went to check and recognised him, he said.

Ntwalana said Siviwe, born in 1983, was later taken to his home, but his mother could not believe her eyes.

"She was shocked because she knew that her son had been buried," he said.

The village's committee was approached and then police took him to the local hospital.

"At that time I was not at home, but when I woke up the following day family members came to ask about him," Ntwalana said, adding that he and his family subsequently went to the hospital to look for Siviwe.

Other family members were convinced it was his son when they saw him, but Ntwalana only believed it after checking certain marks on his body.

"What made me believe was a mark where he was gored by a cow near the eye," he said.

"We were very excited to see him again because we knew he died."

He explained that Siviwe was stabbed by another man during a love triangle argument and reported to have been killed.

Ntwalana said his son has yet to explain where he had been.

"He has not told us where he was all along. He breaks down when he speaks."

Superintendent Mzukisi Fatyela said police were investigating.

He said his fingerprints would be matched with those in his ID application and those of the person who was buried in 2005.

"That process will cast light on what exactly is taking place," Fatyela said.

He added that the police would investigate what happened to the murder docket that had been opened.

This is the second such incident in just under year in Transkei.

The Daily Dispatch reported last year that hundreds of people walked long distances to hear a minibus taxi driver who claimed he returned from the dead eight years after he was buried.

Nkosinathi Ntsente, of Hluleka near Ngqeleni, was found wandering in Ngqeleni and taken home by his elderly mother and uncle last March.

Ntsente was believed to have been shot dead during taxi-related violence between the Ncedo and Border taxi associations in 2001.

Ntsente had claimed that he saw what had happened in the supposed shooting in which a person resembling him was shot and buried, as well as the vigil and funeral of his "duplicate".

Fatyela said people claimed that it was normal for people to return from the dead. "We (as police) do not know about it. People claim it happens often. I personally don't know it," he said. – By MAYIBONGWE MAQHINA, [email protected]