You've got to be kidding me! I knew it! That's it…I quit.
*Starts to pull the plug on GhostTheory…*
Just kidding.
Remember the "Gwrych Castle Ghost" photograph from earlier this week? How we all here at GhostTheory came together and tried to debunk this "mysterious ghost photo". Which by the way I think we came up with some insanely logical and reasonable conclusions. Well it seems that Mr. Horkin did have a ulterior motive. Just like I called it!
Turns out that Mr. Horkin runs a "Psychic Management" company in the U.K. called Parallel Management.
From their about page:
Kevin Horkin – Managing Director
Kevin is the original founder of Parallel Management. His vision and creativity brings a professional and dynamic approach to psychic management. His wealth of experience encompasses expertise in artist management, events management, sponsorships, public relations, media relations, marketing and artist liaison.

Note the words in bold there. Seems like Mr. Horkins' PR expertise has paid off. Publishing his photo of the supposed ghost girl in Gwrych Castle in The Sun Newspaper has earned him world recognition and created a viral marketing campaign. Not wasting anytime on this buzz, looks like Mr. Horkin is riding this wave high. When he took the photograph, him and his team were already scouting different locations for a "Psychic retreat". No doubt when this is built, the gullible will shell out some pretty big bucks for a stay at the retreat.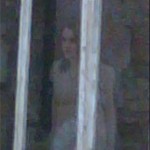 You know, with all the bad paranormal reality shows out there and all the conniving paranormal investigators, you would assume that as writers we here at GhostTheory would be practicing an exercise in futility. It seems like we cover more and more shady things in the paranormal than real investigative work. Should we just ignore it? We can't. That would be a gruesome act upon the integrity of paranormal research and to you, our loyal readers. What bothers me is not that Mr. Horkin is opening a "Psychic retreat", I could care less what he does with his money; but the mere notion that in order to get publicity he would resort to throwing paranormal research itself under the bus, is just plain ruthless.
So now we are left with the laughable reputation. The shameful stigma when someone asks "So, you write about the paranormal?". Just because selfish acts like this occur is no reason to be ashamed of what we believe in; but it does not make it easier.
If anyone lives in the area near the Gwrych Castle, please do us a favor and investigate the site.
Full source: Lancashiretelegraph.co.uk
A RIBBLE Valley businessman is bidding to buy a huge castle to open Britain's first 'psychic school of excellence'.

Clitheroe-based Kevin Horkin has put in an offer of £850,000 to buy the derelict Grade I-listed Gwrych Castle in Abergele, North Wales.

Mr Horkin, who owns psychic management company Parallel, wants to spend 'several millions' renovating the 19th century castle, installing a hotel and facilities for psychics to connect with the spiritual world.

He said: "It has always been one of my ambitions to open a psychic retreat somewhere and this would work on several fronts.

"It will be somewhere where psychics can go to meet like-minded people, to further their interests and develop their psychic senses.

"There will be some psychic workshops because I think there is a desire and a need for that.

"That's why we have gone for North Wales. It is a fantastic place and this is a dream of mine."

During an 18-month search for a base of psychic school of excellence, Mr Horkin and his staff at Parallel, based in Waddington Road, Clitheroe, visited around 20 houses and castles before deciding on Gwrych.

It even included an ultimately fruitless search for a suitable location in Lancashire.

However, he believes the psychic retreat in North Wales, which would include a tie-up with a hotel operator, will appeal to 'ordinary' people.

Mr Horkin added: "It is something different. There's a risk with opening it but I just feel strongly about it.

"I love the place and I feel that people will love it too. There's just something about it."

Earlier this week, Mr Horkin revealed how a ghostly image had shown up on mobile phone photographs he took at Gwrych Castle.

If all goes to plan, he hopes to open his psychic school of excellence in late 2012.
4 comments