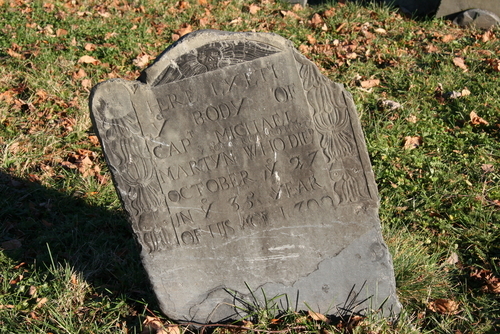 A Virginia landlord found a couple of old tombstones in the basement of a house he is subletting. At first he did not think much of it, since he is not the type to believe in ghosts; but then again he remembered that a couple of tenants had reported that they would hear door slamming, disembodied voices and footsteps throughout the house.
Coincidence?
Full source: Star Exponent
A man helping ready a Triangle home for the rental market found two tombstones in its basement Wednesday.

For the last week, Edward Grogg has been doing handy work at the a one-story home on Triangle Street, helping landlord Elliot Diamond get the 60-year-old house ready to be rented again, after two "unfavorable" tenants abruptly left with little notice two weeks ago.

While in the basement, Grogg said he saw slabs of concrete lying on the floor.

"When I picked them up I could feel the grooves, so I took them and turned them around, leaned them against the wall and then I realized they were real tombstones," said Grogg. "I don't believe in ghosts, but I was kinda spooked."

According to Grogg, the tombstone discovery is the latest in a series of eerie events in this house, including a light bulb that inexplicably turned on while power was shut off to the house.

The headstones of Mary J. Fitton, alive between 1880 and 1935, and David M. Ingram, alive between 1957 and 1980, are now in a police evidence room in Woodbridge. Grogg called authorities on Diamond's advice and reported what he'd found.

Prince William library historian Don Wilson said a check of local records showed Fitton lived with her husband, Hanson Fitton, on Saint Asaph Street Alexandria before her death on Oct. 6, 1935. Social Security death records showed Ingram lived in Washington in 1971.

Wilson said both people could be buried in Alexandria, and that their headstones could have been stolen or replaced.

"Usually, when we find a tombstone in Prince William County, it has been removed from a grave site and replaced with a new one, after the stone begins to show wear," he said.

Investigators do not know how the stones got into the house, but they're trying to find out.

Diamond bought the house as an investment property in 2003, and said his last tenants were a man and a woman who argued frequently. He said the man left without notice, and the woman weeks later surrendered the key to the house, leaving no contact information behind.

"The headstones weren't there when I was in the basement about a year ago," said Diamond. "The police are going to have to track down where these guys went and ask them about it if they are going to find out who they belong to."

While Diamond said he doesn't know about any paranormal activity in his house, Grogg said the tenants previous to the man and woman who abruptly left moved out because they heard strange voices, doors slamming and footsteps on the wooden floors where no one was walking.

Grogg lives next door with his fiancée, Sabrina Ham, on the first floor of a house also owned by Diamond and below is a woman who helps Diamond manage his properties. For a few dollars off the rent, Grogg agreed to help Diamond clean the vacated house.

Three days ago, Grogg was doing electrical work there and had shut off power to the house. While back at his home, he saw a light on in the vacant house, and so did the property manager, who asked him about it.

"She said 'Look inside the house, the light's on,'" said Grogg. He pointed Wednesday to a single round light bulb that hangs in a light fixture above the kitchen, saying it had inexplicably turned itself on.

With much of the cleaning nearly finished, Grogg said he will not volunteer to paint the house or do any other side jobs there. He said he'll leave them to someone else.
4 comments