Los Angeles radio station KPCC has a report about an L.A. based paranormal group that has been gaining a lot of followers. Called Boyle Heights Paranormal Project (BHPP), the group focuses on investigations in and around Los Angeles. Quite recently, they drew a big crowd at the infamous abandoned Linda Vista Community Hospital. One of the city's most popular haunted spot.
Last year, Joe and I were invited to participate in a pilot for a television show which would include haunted places and girls in bikinis. We respectfully declined. Not because we are shy around girls, but because this is something we don't really care too much about (I'm talking about ghost hunting). The producer asked if we would walk a dozen or so bikini-clad girls through the Linda Vista Hospital and talk about its history. The girls would then have to spend a night running around the haunted hospital. Screaming and running from shadows and partaking in the obligatory 'pillow fight' I assume.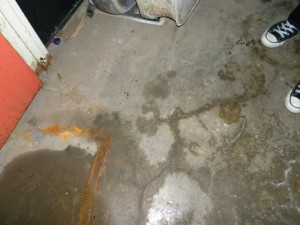 The abandoned hospital is one of the city's most sought-after ghost hunting spot. It has been closed to the public and boarded up for decades, but that's never stopped the adventurous. Nowadays the hospitals owner or caretaker seems to allow group visits by appointments. The BHPP team successfully managed to get a good crowd to attend their investigation of the supposed haunted hospital. What they found, they claim to be signs of paranormal activity. No, it wasn't a bikini top or feathers scattered about…it was a good size human footprint in the basement.
You know us, we're skeptical of most "Evidence" out there, so let us know what you think of this.
Full source: KPCC
On Friday, March 12, while many have tried to get into the Linda Vista Community hospital, Boyle Heights Paranormal Project (BHPP) held its first meet and greet there. Over 200 people came to celebrate the group and learn more about what BHPP does.

"Tonight is about us thanking all our friends, all our family and the fans that we got on Facebook all of a sudden," Boyle Heights Paranormal Project founder Richard "Standing Bear" Berni said. "What I had planned was having a small get-together at a local coffee shop but the guy [who takes care of the Linda Vista Community Hospital] said 'No, no, no, you have to hold it here.' And here we are."

Most fans came to the event out of curiosity, wondering what BHPP does and what the Linda Vista Community Hospital would be like. This is the first time an event like this has been held at the hospital and people were interested to get inside.

Monica Valenzuela, a graduate student at California State University, Northridge, has been to many different places said to be haunted throughout Los Angeles County, and seeing the Linda Vista hospital was something she wanted to do.

"You know, in graduate school I have a couple of friends who got me into exploring haunted Los Angeles," she said. "I was looking for different places to check out and I stumbled upon a Web site that mentioned this place and that's where it started. This is not my first time here; I've been here before. But, I've never been inside, so I guess that was my incentive to come."

Although the group was initially formed in 2005, Berni said he didn't want to bring the group into public until he found the people he was looking for.

"I didn't want to go mainstream or do anything substantial until I had the right group, and now I'm surrounded by a group of people who are pretty awesome and work well together," Berni said. "We are very professional and sincere. "

Ever since he was 10, Tony Almaraz says he has been surrounded by paranormal activity. According to Almaraz, the house in Venice where he grew up was haunted. He said he would see full and partial apparitions walking through the house, hear doors close and slam, watch things fly off of shelves and even saw a heavy picture frame above the couch smash to the floor.

While he's been investigating paranormal activities for nine years, he joined BHPP about a month ago. He's now senior investigator for the group.

"With this group I found out that there are like-minded people like me and we have the same goals, which is to educate the public on history and the paranormal," he said.

Electric Voice Phenomenon Specialist Dawn Gomez has been a part of BHPP for six months. She said while she enjoyed capturing footage, her primary focus was on EVPs.

"Basically I [take a recorder with me] and I start asking questions," Gomez said. "Usually there will be about four of us in a very quiet room and after I ask the questions, when I get home I download it into a program called Cool Edit and I listen."

On Monday, March 8, the BHPP investigated the Linda Vista Community Hospital. They were down in the boiler room.

Gomez was asking questions – "Are you male or female and is someone here with us?" – while the recorder was on. When she got home, she put the audio into the program and says she heard a man whisper to her.

The man's voice said her name, "I don't want to" and "no."

According to Gomez, getting a response to the EVP is not unusual. She says that if there is paranormal activity in an area, some sort of response is likely to show up in the recording. Responses are rarely heard in real time, Gomez said.

BHPP also gives back to the community. In addition to investigating famous historical places that they hear about, they also assist the Boyle Heights community members who report having problems with their homes.

"We try to help other people in Boyle Heights," Gomez said. "If they call us and say, 'there is something going on in our house can you come down and investigate,' that's what we're going to do, help them as much as we can."
8 comments