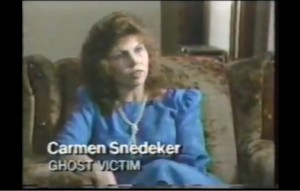 Still more dirt coming out about the supposed "Haunting in Connecticut" case. If you recall, I posted a few articles before about certain facts that were made to light in regards to the Snedeker family claims.
Today I found this video from YouTube user "AtomicCEO" who video taped the original "A current Affair" episode on the haunting.
Not only that, but this person claims that they lived in the supposed haunted house and never experienced any of the ghostly activities that the family claimed.
From AtomicCEO:
This is the piece "A Current Affair" did on the alleged haunted house from "A Haunting in Connecticut" from A&E, and the upcoming movie "The Haunting in Connecticut".
If A Current Affair didn't buy the story, I can't believe this family keeps parlaying this load of crap into more money for themselves. It's also funny how the story has changed from this piece to now.
I lived in this house for two years after all this went down, and it's true that it used to be a Funeral Parlor, but it was not haunted in any way that I could see.
If you pay close attention to the CNN interview Carmen Snedeker did last year, at no point in it does she mention the ghostly rapes or sexual molestation that happened to her while in the house. Although in this old interview, she makes it perfectly clear that her and her husband were sexually molested by the "ghosts".
CNN interview 2009
Notice how the neighbor is being interviewed and she looks understandably frustrated with the whole ordeal. She states that they family's claims are untrue and that their main motive was money, since they were 3 payments behind in their rent.

A Current Affair interview