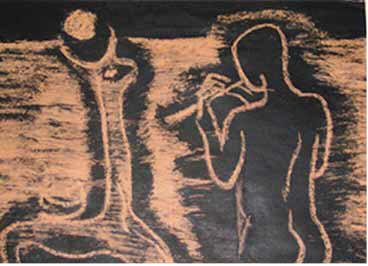 Update: Apparently this was a hoax.

Read the comments below:

http://www.ghosttheory.com/2010/04/13/lost-drawing-of-nessie-by-escher#comments
A long forgotten painting was found in an old Italian attic. The painting had been put aside for years, until traffic police office Raffaele De Feo decided to examine the drawing up close. The drawing was done in 1949 and was signed by M.C. Escher and titled "Loch Ness Monster and Black Man without a Face". If you remember back to your Art History classes, Escher was a gifted artist who fascinated many with his optical illusion filled art.
Art Experts are now being asked to authenticate this drawing. If it is in fact one of Escher's, this traffic cop might have stumbled onto an invaluable piece of art.
Good to see that Nessie was inspiring the art community back in the days.
Full source: Press&Journal UK

Our Loch Ness Monster is famed the world over, and pops up in very strange circumstances from time to time.

Now she has surfaced at the centre of an art mystery in Italy.

This centres around a charcoal drawing dating from 1949, which is described as Loch Ness Monster and Black Man without a Face, and which could possibly have been drawn by famous Dutch artist, MC Escher.

This story of the mystery painting starts in 2005 in Volturara, a small village in the Italian province of Avellino, where traffic police officer Raffaele De Feo lives.

When clearing out his family's attic, he found what he called "the strange picture".

Initially he did not take any notice of it, but later, in removing the frame, he sees an inscription on the back of the picture, signed by MC Escher, which reads: "With all my heart to a friendly remembrance."

Now some Italians are urging art experts to authenticate the work as being done by Maurits Cornelis Escher, nicknamed "Mauk", and contacted the Press and Journal to spread the world that Nessie "lives" in Italy.

Escher (1898-1972) was hailed by many as one of the world's most famous graphic artists. His art is enjoyed by millions of people all over the world, as can be seen on the many web sites on the internet. And for several years he lived and travelled in Italy.

He is most famous for his so-called impossible structures, such as Ascending and Descending, Relativity, his Transformation Prints, such as Metamorphosis I, Metamorphosis II and Metamorphosis III, Sky & Water I or Reptiles.