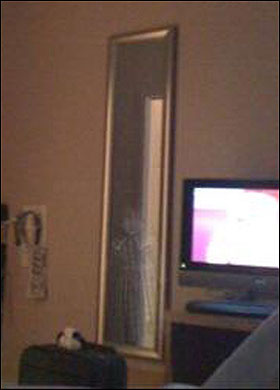 Dear 'The Sun': Stop.
No seriously. If any editors from The Sun newspaper are reading this, please…just stop.
The Sun has been the joke of recent online ghost photo hoaxes. So it's no surprise that yesterday's post in The Sun's website about a "Weeping … ghostly figure of girl in mirror" was an automatic junk post. As soon as I saw the image, I checked the screenshots for the the iPhone app called "Ghost Capture". In the exact same method The Sun was fool with the "ghost boy" photograph, again we see one of the "ghosts" from the iPhone app making headlines.
Check it: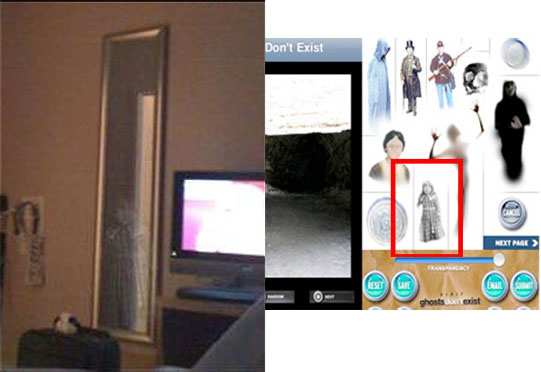 Full source: The Sun
A TERRIFIED couple spotted this ghostly figure of a weeping girl in the mirror of their hotel room – and fled after managing to snap a picture.

The "hysterical" pair said she had curly locks and a check dress, and was "crying".

They checked straight out of the room which was LOCKED by hotel bosses after seeing the spine-tingling image, so no one else could stay there.

A guest at the Ramada Hotel in Watford, Herts, said: "The couple went to reception and were hysterical.

"The man said he wanted to get out of the room ASAP.

"When they were asked why they wanted to move, the man said he had seen a ghost. Staff didn't believe it but then they were shown the picture.

"They were upset and said the image of the child was crying and crying and it was moving in the mirror. The guest was properly shaken."

An investigation has been launched to find out if staff have witnessed spooky occurrences in room No 307. The couple in the room were staying on their own and had no children.

A spokesman for the hotel group said: "We have to be careful because we do not want to upset people, so we have closed off the room to check that there is nothing untoward there.

"We have to investigate it. Anyone coming in is not given that room until we have done our full investigation.

"We are speaking to housekeeping to see if there is anything that would support what has been said by the guest."

The photograph was taken on Bank Holiday Monday. The spokesman said the hotel would give the room "a good clean out".

He added: "We are quite confident there is nothing untoward."