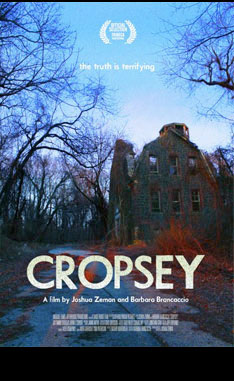 Andre Rand, convicted child kidnapper and a suspect in several murders terrorized residents in Staten Island in the '80s. Flash forward a few decades and now in 2010 his name is creeping up again.
Filmmakers Joshua Zeman and Barbara Brancaccio are preparing for their two month screening of Cropsey. A documentary that takes the viewers into the mysterious disappearances of children around the Staten Island area. The film is about the urban legend behind the boogeyman nicknamed Cropsey, and the flesh and blood real boogeyman, Andre Rand.
I found out that they are having a screening of the film in my neighborhood July 9th – July 15th at the Downtown Independent theater.
Anyone interested in joining me?
Source: CropseyLegend.com
a feature documentary that delves into the mystery behind Jennifer and four additional missing children. The film also investigates Andre Rand, the real-life boogeyman linked to their disappearances.

Growing up on Staten Island, filmmakers Joshua Zeman and Barbara Brancaccio had often heard the legend of 'Cropsey.' For the kids in their neighborhood, Cropsey was the escaped mental patient who lived in the old abandoned Willowbrook Mental Institution, who would come out late at night and snatch children off the streets. Sometimes Cropsey had a hook for a hand, other times he wielded a bloody axe, but it didn't matter, Cropsey was always out there, lurking in the shadows, waiting to get them.

Later as teenagers, the filmmakers assumed Cropsey was just an urban legend: a cautionary tale used to keep them out of those abandoned buildings and stop them from doing all those things that teenagers like to do. That all changed in the summer of 1987 when a 13-year-old girl with Down syndrome, named Jennifer Schweiger, disappeared from their community. That was the summer all the kids from Staten Island discovered that their urban legend was real.

Now as adults Joshua and Barbara have returned to Staten Island to create Cropsey, a feature documentary that delves into the mystery behind Jennifer and four additional missing children. The film also investigates Andre Rand, the real-life boogeyman linked to their disappearances.

Embarking on a mysterious journey into the underbelly of their forgotten borough, these filmmakers uncover a reality that is more terrifying than any urban legend.
Read about the killings from NYDailyNews:
'HANNIBAL LECTER OF STATEN ISLAND' Sex fiend trial revisits '80s case

By HEIDI EVANS DAILY NEWS STAFF WRITER

Sunday, September 8th 2002, 8:06AM

"You know me and [Ted] Bundy are alike in many ways. We both used Volkswagens. Bundy's thing was women. My thing is kids. . . . Do you think the police could figure that out?"

– Andre Rand, convicted child kidnapper and suspected serial killer in conversation with inmates.

As America agonizes over a wave of horrific child abductions and murders this summer, prosecutors are targeting a Staten Island deviant suspected of killing at least four young girls and two women.

Andre Rand, a 58-year-old drifter and sex offender, is serving 25 years to life for kidnapping 12-year-old Jennifer Schweiger, whose nude body was found in 1987 in a shallow grave near Rand's campsite on the abandoned grounds of the Willowbrook state mental facility.

Although Rand has been in prison for 12 years, he still casts a large and disturbing shadow over the borough.

"I call him the Hannibal Lecter of Staten Island," said Donna Cutugno, president of Friends of Jennifer for Missing Children, a volunteer group that began the community search for Schweiger and still searches Willowbrook's 385 acres twice a year looking for the other girls.

"He terrified a whole community. He still haunts us."

New trial

Tomorrow, pretrial hearings are scheduled to begin in a Staten Island courtroom, where Rand will stand trial for the kidnapping of Holly Ann Hughes, who disappeared 20 years ago when she was just 7.

Prosecutors and detectives have reinterviewed witnesses from two decades ago – some under hypnosis – and say they have pieced together key evidence that eluded them in 1981 when Holly was last seen at a local deli buying a bar of soap on the night of July 15. Police said witnesses saw Rand's green Volkswagen circling the area on that night. Although he was questioned by police and his car was searched at the time, he was not arrested or charged.
4 comments