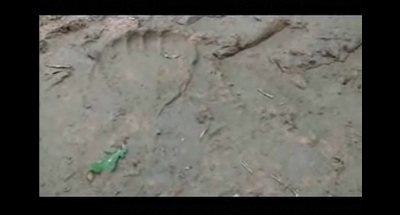 Cleveland County, N.C., residet, Rick Lunsford, contacted the BFRO when he heard about the recent Bigfoot sightings near the Burke County area. Lunsford's story took place 32 years ago and he still stands by his word that what he saw was in fact the "famous furry fellow".
He described Bigfoot as being somewhere between 6 and 8 feet tall and as broad as a refrigerator. Its arms were bowed out. It had dark hair, 3 or 4 inches long, on its arms.

But what he remembers most vividly, he said, were the creature's dark, round eyes and oval head.

"He looked at me," Lunsford said. "He would not blink his eyes, would not move a muscle. He was trying to blend in.

"I still don't know what his intentions were."

Lunsford turned and ran. He didn't report the incident to anyone.
Full source: JournalNow
By Tim Clodfelter

JOURNAL REPORTER

NORTH WILKESBORO

Some people spend decades searching for Bigfoot.

Rick Lunsford says that 32 years ago, he ran into the famous furry fellow by accident at the edge of a cornfield in Wilkes County.

"Some people say 'what was he smoking,' and some people say they've seen it, too," Lunsford, 52, said. "It's up to them what they believe, but I know what I seen."

Bigfoot has been reported in every state in the U.S. except Hawaii, according to the Bigfoot Field Researchers Organization, a national group that has investigated Bigfoot sightings since 1995. BFRO's website lists more than 60 reported sightings in North Carolina, including Stokes, Yadkin, Davie and Davidson counties. Earlier this summer, a report from Cleveland County made national news when a man claimed he had shooed away a Bigfoot on his property.

That story inspired Lunsford to contact the BFRO and share his story. Several stories have run in the Wilkes County Record about his encounter, and about subsequent claims by other people that they, too, had a close encounter of the hairy kind.

Lunsford — who was 20 at the time — said he was near Roten Creek Road in Wilbar early one morning in late August or September of '78 when he noticed an awful odor.

"It was the worst mildew stink I ever smelled in my life," he recalled.

Then he saw it.

He described Bigfoot as being somewhere between 6 and 8 feet tall and as broad as a refrigerator. Its arms were bowed out. It had dark hair, 3 or 4 inches long, on its arms.

But what he remembers most vividly, he said, were the creature's dark, round eyes and oval head.

"He looked at me," Lunsford said. "He would not blink his eyes, would not move a muscle. He was trying to blend in.

"I still don't know what his intentions were."

Lunsford turned and ran. He didn't report the incident to anyone.

"I just brushed it off," he said, "wiped it out of my mind. Then later I started telling my kids when they were growing up, and then my grand-young'uns."

A few months ago, he got in touch with the BFRO.

"I have spoken with him repeatedly since June 20," said Sybilla Irwin, a BFRO investigator. "And he has always told the exact same story and details without deviation. I think he is telling the truth."

If it is the truth, it's not about to get Wilkes County Sheriff Dane Mastin on the trail.

"I've never had the pleasure to go out and search for Bigfoot, no sir," Mastin said with a laugh. "We've had some bigfooted people we've looked for, but it wasn't the Bigfoot."
4 comments