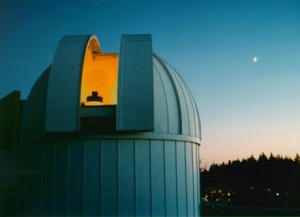 Phil Plait, from Blogs.discovermagazine.com, posted an article today explaining why Astronomers, the people who spend their days looking up at the stars, don't ever report seeing UFOs. Although it's a good question, I found the answer to be insulting and narrow-minded. Yes, yes I know that there are those people who can confuse the Moon or an airplane for an alien spacecraft, but what about those of us who have seen strange lights being chased off by incoming jets?
When I was a kid in the 80s, we lived in Orange County (Garden Grove, CA). One evening, as my siblings and I were helping our mother unload groceries from the car, my sister yelled "What's that?" and pointed up. I kid you not; we all stood there watching this upright triangle object with a multicolor light emanating from it, float through the horizon. A few seconds later, two military jets appeared (from the south?) and the triangular object quickly changed course and took a very fast acceleration upwards into the clouds. And just like that, it vanished. We stood there watching the jets, slowly climb up in altitude. Nowhere near the speed in which the object did. The truth of the matter is that astronomers spend their time looking at fixated objects thousands of miles away. We (earthly citizens) occasionally glance upwards and can only see a few miles up. If there are other lifeforms visiting us, they would be observing closely to the Earth's surface. Way out of the sight of an astronomer's telescope.
Contrary to what Mr. Plait's article states, there have been plenty of reports given to MUFON from amateur and professional astronomers. Checking the MUFON database, there are several listed. One that stands out occurred last October. MUFON case # 20,023. This occurred in Oklahoma.
On the evening of 10-17-09 myself and four other club members were at our astronomy clubs' observatory (35.8308 96.14518) for a clear night of observing. With many years of experience in observing under our belts we were needless to say quite qualified to identify most anything that we would see. Between approximately 6:40 – 7:00 P.M.

One of the members noticed something off in the west and queried as to what it may happen to be. First and foremost it was bright, more or less as bright as Jupiter, yet setting about ten to twelve degrees above the horizon, due west. At our first sighting most of us thought that it was nothing more than an airliner reflecting sunlight from the setting sun but that determination was tossed aside shortly there after. If it had been what we first thought it was it would've lost it's size and brightness fairly quick as it shifted positions in relation to the sun while in flight. But, it continued to maintain its position, did not move in any direction – vertically, horizontally.

If by some chance it were a celestial body it would follow a gradual celestial track that all of us would have noticed in a few minutes. Again, it didn't move, remained in one position, which eliminated the possibility of it being a celestial body that none of us were unlikely familiar with. That alone became puzzling since the obvious – Venus, Mercury – are now tracking in the morning eastern sky, not the evening western sky. With that we continued to watch it as one of the guys used his 10×50 binoculars to get a better view. What was seen initially brought to mind that it may perhaps be a high altitude research balloon but the more we watched it and as it maintained its position that thought was tossed quickly also. From the beginning it remained in one position, never moved. Balloons, of any type, will not remain in one specific position be they weather balloons, high altitude research balloons or otherwise.
But as we watched it more closely it was very surprising as to the manner in which it morphed into various shapes and sizes. Its brightness would vary some but that was easily seen as being caused by the low-lying clouds on the horizon. As we commonly call it – it was "sitting in the soup". When they would move in front of it the objects brightness would dim some. Otherwise it would maintain its brightness. That was easily seen via binocular observations. The longer we watched it the more curious we all became and with that growing curiosity we quickly set two telescopes onto it. Two different sized telescopes were used, one, Celestron 11" Schimdt-Cassegrain telescope and a smaller Orion 4.5" dobsonian telescope. Between the two we could pull it in for a much closer look in a very inquisitive effort to determine just what it actually was. Charts and web sites were checked also to make sure we weren't simply forgetting perhaps one event that may explain what we were now seeing. Nothing could be found. The Celestron was using a 40mm eyepiece for a much wider field of view whereas the smaller Orion had a 15mm eyepiece to pull it in much closer. Through the Orion one could easily see what appeared right off as a bell shape.

The same was viewed in the other also. But as mentioned before it morphed into what was clearly seen and could be interpreted as the same basic outline of the Shuttle that anyone would see as it flies over. Again, the same basic shape as to what you would see looking up at the bottom of it. That distinctive shape was easily recognized. At the rear of it you could see what looked like bluish green waves that would both come and go from the main rear line of the object. Nowhere else was this color and wave seen, just at the rear. The objects color was a combination of the just mentioned bluish green at the rear to a lighter orange yellow up through the main body and then into red orange, much more intense, than any of the other colors at the top or perhaps, from appearance at that time, leading edge. None of us had ever seen a color distribution of this sort before. Especially on either the Shuttle or any other normal day-to-day satellites. From our position/location it appeared to be hovering over either Bristow, Ok or possibly even Oklahoma City. There was no attempt by any of us then to determine its specific distance or altitude from us. The same applies to its actual size. Visually, it appeared very similar to the size of Jupiter. Other than that comparison we honestly don't know either its distance or specific altitude. It remained in the same position for approximately 40 minutes and never moved. Close to 8 P.M. we started to notice what appeared to be a ring of lights that was rotating around the bottom portion.

The lights were seen in the same location that the bluish green colored waves were at. Several of us noticed this while looking at it through the telescopes. Needless to say this was surprising to us all. This carried on for one to two minutes and then suddenly the object started to move. The movement was slow at the beginning but increased very rapidly. I had my eye glued to the 40mm eyepiece when this began and once it started I could not move. Within two seconds it had totally disappeared from open visual sight but I still had a lock on it in the eyepiece. Fast, very fast it moved from dead center in the eyepiece field of view upwards and at the same time was getting smaller and smaller as it flew away. Two or three seconds later it was totally gone from view in either of the telescopes. The speed that it moved was without question way beyond anything that we have knowledge of or is publicly known to be in our military. At the rate it flew away would make a SR-71 Blackbird look very old and slow. Could it have possibly been a new experimental aircraft? Possibly yes but if so what was something such as that doing in Oklahoma? Most generally new experimental, top-secret aircraft of that type are being tested at either Edwards AFB or Area 51, not Oklahoma. In a nutshell, we will never know.
It was unidentifiable, it was in the air and flew away and it most certainly was an object of some unknown kind/type. From this alone it could be justifiably categorized as a UFO.
Full source: Blogs.discovermagazine.com
I have, from time to time, made a point that astronomers rarely if ever report UFOs. If UFOs really were buzzing us as much as the media and UFO proponents would have us believe, then astronomers would overwhelmingly report the majority of them: we spend far more time outside looking up than pretty much any other group of people.

So why don't we see all these alien spacecraft? I think this is because we almost always understand what we're seeing in the sky, so we know not to mistake Venus, the Moon, a satellite, or other mundane things for flying saucers.

While UFO believers love to make hay of this — showing me the extremely rare time when an astronomer has reported a UFO, thus proving my point, or falsely saying astronomers spend too much time at the eyepiece to note the broader sky (which is ridiculous) — the fact is, astronomers are familiar with the sky, so we know what's going on.

Well, almost always know. John Woolley of the Greater Edmonton Skeptics Society has an amusing story of the time he and some other astronomers saw something they couldn't immediately explain… and make sure you read Part 2.

And y'know, his story sounds pretty familiar…

So remember, despite the claims of the UFO crowd and the media that love to play this stuff up, seeing isn't believing. Understanding is!