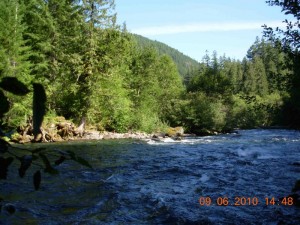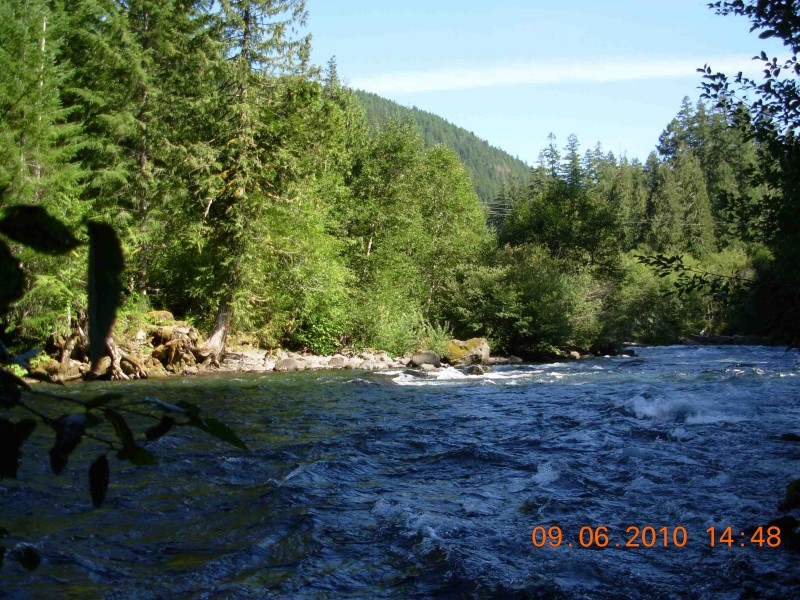 GhostTheory reader & Bigfoot researcher, Dave R. has taken the liberty on hiking out to the Mckenzie River in order to analyze the area in which footage was shot 2 years ago, depicting what some say is a Sasquatch. that video created a buzz last week all over the internet.
Although Dave R. meticulously examined the area and has his own conclusion that this "blobsquatch" could have been a human (since the area is heavily populated by campers, hikers and mountain bikers), I still think that the "blobsquatch" in the 2008 video is just an old tree trunk or rock.
Dave's research does bring up good points and he makes great observations. At this point, I myself am torn between it being a human hiker or a rock/tree.
From Dave R. A.K.A PragmaticTheorist
This is Dave AKA PragmaticTheorist. I live in Oregon and know the region well.

OK, so here's what I found Monday on my visit to the site in question where undetermined figures were assumed by too many to be that of not one, but two sasquatch. At least there were some people on various sites who kept a rational mind about this and recognized that not enough information was available to develop such an unsupported conclusion. I have proceeded with this analysis for several reasons. I live here. I used to manage the Chamber in the valley. I have my own drift boat, and have collected decades of history on them for that matter. I know the locality. I know the person in the video. I've encountered sasquatch in the same river basin. I also have a good idea of how this all transpired and what is keeping people hyped on the idea of it being bigfoot. I now know the physical layout of the site in question and how human activity is being being badly misinterpreted. I understand a little something about photo interpretation too, and how various elements are often misinterpreted. My point of course is that I've got a few qualifications to speak on this footage.

Javier, I think you may be losing some frames in your rendering so that's why you aren't seeing complete movement. No, they were NOT bigfoot in the video either! This is a 'very' popular stretch along the McKenzie River for all sorts of recreational users. I realized this overall popularity from the very beginning because I have here for 30 years, it was just a matter of documenting the specific location in question. Less than 40 feet away from the beach where the subjects are standing, there are two campsites. Further away are more campsites and inroads to this site. All along this stretch, which is actually a large recreational loop, there are many many more campsites, along with vehicle access, portable bathrooms, concrete bridges, mountain biking trails, yada yada. I have provided a photo taken from the closest campfire where you can see the VERY rock beach and river location through the brush where the 'PEOPLE' were standing. There is a 'well used' 30′ LONG path between the two. Don't get lost along this path or the one next to it to the second campsite! There is also a power-line over the parking area of the campsites, along with well used road access in from the highway. My vehicle is parked within 8′ of the campfire. You can see my windshield reflecting the blue sky in a photo I took from WHERE THE PEOPLE were standing. lol So yeah, the Google Aerial images I included in Post 51 are very close, although there are additional man-made structures there, as well as more camps next to the river. I've uploaded an updated aerial map to depict the area's features.

(Note that all those Camera Icons were already there in Google Earth's view of the area.

Right across the river is a highly used gravel road although it is closed to vehicle access. But this is because it is a stretch of the McKenzie River Trail and so it is kept vehicle free so the hikers and bikers can use it without being run over. While I was taking photos directly from across river of the beach site, I had the H E Double L scared out of me. lol You can't hear much with the noise of the rapids and I was focused across the river and just not paying attention. In fact I was on a short stretch of asphalt pavement that marks the location of an 8′ culvert that goes under the road. Anyway I'm doing my thing there taking pics of the rock beach, and all of a sudden hear a bunch of racket not 3 feet behind me on the road. There were a half a dozen mountain bikers who decided it would be fun to not make any noise while they snuck up behind me. Boy did I teach them when I turned around white as a ghost raising my arms in surprise. LOL Well, its good thing that wasn't a real bigfoot or he would have had a major heart attack from my quick reaction of being startled. 😮

(Directly Across River along McK River Trail while standing on Pavement)


(Highway Access into camp area)


(Looking from Camp Fire to Rock Beach where subjects were)


(Rock Beach to Vehicle Windshield & Campsite)


(Powerline Image While Standing Next to Campsite)


(Here is from directly across river 3 yards upstream of the culvert)


(Taken along the same side looking at rock beach & river)


Up and down this entire stretch there are campsites everywhere. As I drove around, I found a few large kayaker camps in this loop, but none floated by while I was on the river. I had pulled into one camp a half mile upstream to just miss a few in kayaks who put in and were out of sight before I could get out the vehicle. People floating, riding bikes, or hiking along this stretch, regularly camp 'everywhere' along here.

The river flow along that stretch Monday while I was there was right around 750 CFS as opposed to the 1,650 CFS purported on the day of the video. These flows are according to the USGS Stream Gauge immediately down river, which are available online. I'd estimate that to be about a 2′ drop in water height Monday as compared to the video. This would leave that giant boulder in the photo to be about half submerged. Keep in mind that the vegetation to the left of the boulder is still fairly young and may not have been there or as thick 2 years ago.

Here you may notice a large tree along the left bank. There is a ledge to the left of it. A person can stand on top of this ledge, but there is nowhere else to safely stand to the left of the tree unless you were hanging on the roots. This seems to have been mostly left out of frame as well so its somewhat irrelevant other then to show the surrounding terrain. Point is, anybody walking along here will have been in that rocky beach area because above and below are some precarious bank and moving water at 1600 cfs would be very dangerous.

The rock where I took the above photo from was just under 200′ up and across river. I think the individuals in the boat should think back because it would be almost impossible to not have seen them standing there, but it was 2 years ago and it wasn't something very important at the time. I previously acknowledged just how focused a person is when going through rapids, but there was a slight delay while approaching the location as the first boater went through. Plus, you do make mental notes of things going on around you if you are a skilled oarsman even when the most action is taking place. Quite a few kayakers use this stretch as well, so I'm now wondering if its a few kayakers who we are seeing in the video? It could have just been some campers or spectators as well. I suspect Chris and his team have run this many many times, and since this was 2 years ago, it's probably difficult for them to recall the exact scenario of this particular trip. I'll see if I can drop in to visit him today and pick his brain.

There is a whole lot of human activity and infrastructure around there. Let there be no mistake, THIS IS NOT SOME WILDERNESS STRETCH as some are envisioning! Even though I know the person in it, nothing has changed from my very early opinion about this video, they are not bigfoot! If some still need to exercise their imagination and see things bigfoot based on some blurry inconclusive footage, I can't help them and they aren't really doing much benefit for the field or themselves either. Its up to individual readers herein to 'trust' that I know what I'm talking about here and consider the evidence I've included to support it.

Bottom line is, you have to consider MUCH more then just the images, especially when they are 'extremely' blurry. It would have been reasonable if there was a 'single' piece of corroborating evidence or eyewitness claim to support it being a bigfoot. But there wasn't. Notice over on bfro there is now someone on page 3 claiming a bigfoot is along the bank at 0:25 to 0:35. The individual has one post and wouldn't do his intro as requested. It's because the field is looking so gullible, and its very obvious when there is this much fuss over something so inconclusive and without a shred of supporting evidence. Is a blurry image REALLY all it requires?

So that"s what I have this morning. I may have more after today's trip into town if I can chat with Chris some more. I hope this closes this mystery out. I also hope those who aren't privy to the location will trust what I've provided. If I think of anything else, I'll include it later on. There is no bigfoot in the video.

But wait, OMG! LOOK what I found on the same side of the river as the two undefined bipedal upright black & auburn, coned-headed, long-armed, cupped-hand, 6 1/2′ -7′, instinctually-hiding OREGON Sasquatch. :rolleyes: It looks to be a primitive stick structure type shelter, AND, he's using a human campground. Of course! It all makes sense now. As long as he comes in after dark and is gone by morning, not even the people in the adjacent camp will notice. This is the discovery of the century!

Oh wait, there's more, look what I saw down the road from back at my vehicle!

Could it be? Is that a BlurSquatch? (Hmm, a newly coined phrase?)

B) Can the photo experts please enhance this in HD that way the pixel borders will come in clearer?

Then again maybe it was just this guy who passed me minutes earlier on the POPULAR MCKENZIE RIVER RECREATION TRAIL!

Hmm, or was it? 😉
21 comments