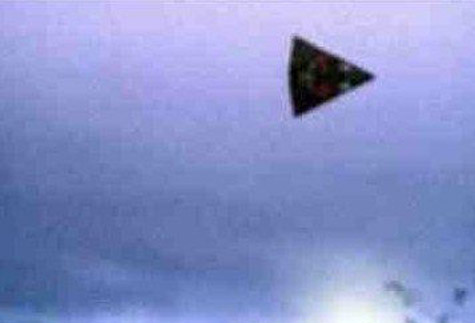 Dubbed the "Dorito UFO" because of its shape, the Dudley UFO sighting has prompted many to speculate that "triangle UFOs" are on the rise in the UK or that governmental agencies are flying a super top secret aircraft. Top secret stealth technology or triangle UFOs? I say neither! At least not looking at the above photo.
I have to admit that this looks like a kite. Plain and simple. Forget all those stories of "doritos UFOs" or stealth aircraft. Let's be serious for a minute and think of the probabilities here.
What is the most probable of scenarios?
Full source: Express and Star
A triangular UFO dubbed the Dudley Dorito has been spotted over the skies of the Black Country and Birmingham.

Quality inspector Munesh Mistry, aged 21, spotted the triangular-shaped object above the skies of his home in Andrew Road, Tipton, at around 10.15pm on Sunday.

His sighting comes just weeks after a UFO was spotted hovering over Sutton Coldfield on the eve of Bonfire Night.

That time the triangular object, which was said to be four or five times the size of a commercial airliner, was seen by David Allen from Bendall Road, in Boldmere on November 4.

The sightings have echoes of the Dudley Dorito which was seen flying over the area during 2007 and 2008.

Mr Mistry, who spotted the object with his friend Neil Martin, aged 21, who lives in nearby Wells Close, said: "Me and my closest friend saw an amazing fast-moving and silent craft in the shape of a triangle made up of what appeared to be three lights fly across the sky at a mind boggling speed.

"At first it looked like three birds flying in unison, then when seeing the triangle shape, we both were amazed and immediately discarded that explanation."

He added they promptly logged onto the internet and saw previous sightings on the Express & Star website.

He added: "We wondered if there were any other reports of a similar sighting, as we are both convinced that what we saw was either a spy plane being used by the military, if not, in my opinion is it is hardcore proof that it is an extraterrestrial spacecraft."

In February last year a UFO sighting was recorded by Sean Gibbs-Percival over the skies of Oldbury.

On April 16 last year builders working at West Midland Safari Park were shocked to see a flying saucer-shaped object soaring above them, while on April 4, two bright orange UFOs shaped like Cornish pasties were spotted flying over Sedgley.

And in October 2008, a photograph of the Dudley Dorito was hailed as an important piece of evidence of alien life.

Previously top secret files were released by the Ministry of Defence describing hundreds of close encounters with UFOs earlier this year.
17 comments