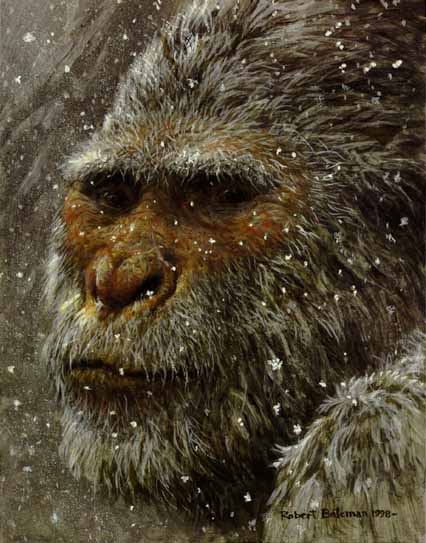 In efforts to shave off travel time between Tawang and Guwahati in India, a road is being constructed through the Bhutanese territory. Why is this relevant to us paranormal/crypto enthusiasts?
If you recall, the Bhutan territory is home to the Yeti and the recent controversy of possible Yeti hairs found by the television show crew from Destination Truth.
For years, there has been reports of a "wild man" that is seen running through these parts. Described as ape-like in appearance, the creature is feared by the locals who seen it and who are aware of the legends.
With this new road being constructed that cuts through the protected Sakteng Wildlife Sanctuary – a sanctuary built for the yeti- I'm sure that if a creature, that has been reported for centuries does exits, then we will be hearing a lot of reports by drivers from these roads.
Full source: HindustanTimes
Locals here have for ages lived in awe of a 'monster' called China. They are now wary of being haunted by another — the mythical Himalayan yeti. The Border Roads Organisation (BRO) is developing a road through Bhutan to have faster access to the western district of Tawang, around 550 km northeast of Assam capital Guwahati.

In close proximity to this road is Bhutan's Sakteng Wildlife Sanctuary — a 650 sq km reserve created specifically to protect the habitat of the yeti or abominable snowman, known in Bhutan as the migoi, or strong man.

This road via Udalguri in Assam connects the Bhutanese district of Trashigang before terminating at Tawang. "This road is expected to be completed in three years," Tawang deputy commissioner Gamli Padu said.

There is a sense of fear among the locals. But they are enthused by the possibility of this unseen mythological monster, known for scaring campers, boosting tourism in Tawang.

"We fear the yeti," says Tawang-based trader Yishe Jungney. "But we know it means no harm unlike them," he added, pointing towards Tibet.

The BRO, though, has refused to talk about the road through the tiny Buddhist country.

"We are only working on a shortcut to Tawang that reduces travel from Guwahati by 93 km," said a senior officer of the 14 Border Roads Task Force based in Tenga, 205 km south of Tawang.