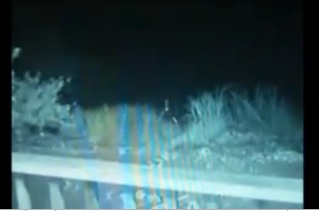 More Australian weirdness in the news. Yesterday's post about the UFO in Australia led many GT readers to believe that what was captured on a photograph was nothing more than a mountaintop with its base covered by clouds. Making it seem like a triangle UFO.
Today, another UFO/Alien story from the land down under.
16 year old Alex Player claims to have been visited by aliens for quite some time, what's more interesting is the shaky and blurred video he shot of a supposed alien outside his home.
I tried watching it several times and came to the conclusion that Alex Player cannot hold a steady hand. Oh, and also that his camera has the worst focus in the world…
Regardless of what I think, his videos were acquired by someone making a documentary on UFOs and aliens that is due out next year. I wonder how much he paid?

Full source: TweedNews
ALEX Player has captured footage of what appears to be a mysterious alien creature moving in his backyard.

The 16-year-old Bilambil Heights resident has captured four different encounters with the alien creature on film and believes the creature has entered his home.

"The first time I saw it was the clearest. It was not that tall – only as high as the grass – and a grey colour with a big head," Alex said.

"It didn't make a single sound. I'm a believer but I have never seen anything like this before. I'm open to the idea.

"Who would be out in that area late at night? I don't think it could be anything else."

The images were captured on October 5, October 24, November 20 and November 28 on a video camera and mobile phone.

Alex said the being entered his home on one occasion.

"In early November it came into the house. I think it came from my mum's room and through the house," Alex said.

"My mum and I sat in my room. It moved through the house in two minutes.

"Then we heard a thud outside, like it was jumping off the veranda."

Alex said he placed the footage on video sharing site Youtube and received many comments from users.

The footage he shot of the first October encounter has been used in an independently-produced documentary entitled Gone with the UFO's, to be released on DVD in 2011.

UFO Research Queensland sightings officer Martin Gottschall said movement could be a deciding factor when looking for alien activity.

"There are certain types of movement that I recognise as belonging to a UFO," Mr Gottschall said.

However, he said he did not see that kind of movement in Alex's video recording and he was not convinced the recording depicted an alien.

"UFOs can hover and make no sound or shoot off at a high speed. In the footage you cannot see if the creature is hovering," Mr Gottschall said.

UFO Research Queensland Incorporated is a voluntary, non-profit association established in 1956 to receive, record and research UFO sightings.

It proposes there exists, and has for many years, a large body of well-attested sightings which are so unambiguous that the only reasonable inference is that extraterrestrial vehicles are flying through the atmosphere, landing on the ground and entering the oceans.
23 comments