The theory of Rendlesham Forest UFO being a military cover-up has been around for quite some years now. A theory that says that a Apollo space rocket capsule was lost in the area, could help explain the Rendlesham mystery that occurred almost 30 years ago.
I myself find it strange that the military personnel, including the deputy base commander Lt Col Charles I. Halt, did not recognize the Apollo rocket capsule. This was in the 80s, even most civilians could have recognized such shape. The sketches provided by the witnesses are not exactly a perfect match to a rocket capsule. The following sketches are from John Burroughs, an airmen present at the time. The represent what he and others saw that night. The strange craft shape and its symbols were unlike anything the military men had ever seen.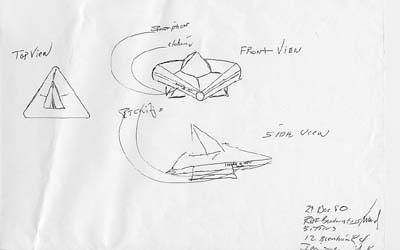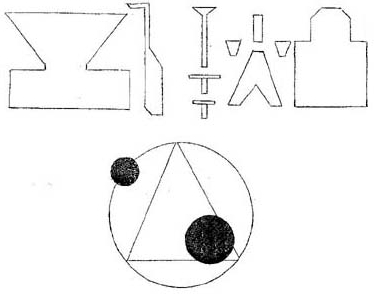 Full source: EADT24
The internationally-famous Rendlesham "UFO incident" story was a cover-up to save the blushes of blundering US helicopter pilots, a special investigation claimed last night.

BBC Radio Suffolk broadcast a live programme to investigate the enduring mystery of the UFO "crash" in the Suffolk forest nearly 30 years ago – a story which has gripped enthusiasts across the world.

Host Mark Murphy spoke to a number of people who have an interest in the story in an attempt to uncover some truths during the live show, which was broadcast from the Cold War Museum on the former USAF Bentwaters base and the "landing" scene.

He said, after looking at the various theories, the one that seemed most plausible was that the "alien spacecraft" was actually an Apollo space rocket capsule which had been dropped following a helicopter accident early on Boxing Day 1980.

"The Woodbridge airbase was home to the Apollo recovery team which would be called out if the rocket landed anywhere other than the Pacific," he explained.

"For whatever reason, it seems the helicopter crew went up on Christmas night and took the capsule out for a trip, suspended below it on chains.

"The helicopter was flying low and it smashed into the runway lights, causing it to drop the capsule into the forest. They then came back the next day to recover the capsule. It was then taken to an air force base in America and, apparently, its dimensions match up with those in the forest supposedly caused by the 'alien spacecraft'.

"Lots of people saw lights in the sky that night and there was one couple, who are no longer with us, who swore they saw a helicopter carrying on chains what looked like an upside down ice cream cornet."

The theory was proposed by Graham Haynes, who runs the Cold War Museum, and Mr Murphy added: "It seems a plausible theory.

"I'd love to believe it was a UFO that landed that night – but where's the proof?"

Radio Suffolk and the East Anglian Daily Times are joining forces for an investigation into the incident, which is called Rendlesham Revealed.
9 comments